Horn of Africa – Kenya and Somalia
HOA: Kenya and Somalia
---
Ahmed Arale, Secretariat Director
Secretariat Host Organization/ American Refugee Committee (ARC)
Programmatic Focus
CGPP HOA (Kenya and Somalia) supports interventions to strengthen immunization systems to achieve polio eradication and enhance population immunity among the special populations of nomadic pastoralists, Internally Displaced Persons (IDPs), and hard-to-reach communities along the Kenya-Somalia borders through targeted, integrated immunization and surveillance outreaches. In 2019, CGPP Kenya began integrating community-based surveillance for five priority zoonotic diseases – Anthrax, Trypanosomiasis, Rabies, Brucellosis and Rift Valley Fever – to strengthen Global Health Security.
Implementation Focal Sites
In 2020, CGPP HOA directly supports 95 cross-border health facilities in six Kenya counties (Garissa, Lamu, Wajir, Mandera, Marsabit and Turkana) and Kamukunji sub-county in Nairobi County, which is home to many Somali and Ethiopian refugees. In Somalia, the project links with 27 health facilities in  three regions bordering Kenya and Ethiopia (Bardere, Elwak, Belet-Hawa, Luq and Dollow districts in Gedo region, and Afmadow and Badhadhe in Lower Juba region and Rabdure and El Barde districts in Bakool region.)
Implementing Partners
Five international NGOs– American Refugee Committee, International Rescue Committee, Catholic Relief Services, World Vision-Kenya, Adventist Development and Relief Agency-Kenya – and one local NGO, Somali Aid, a local NGO.
Overview
The Horn of Africa experienced a wild poliovirus outbreak in April 2013 with a record number of 223 cases: 199 in Somalia, 14 in Kenya and 10 in Ethiopia. While the outbreak occurred primarily in Somalia, it quickly spread to Kenya and Ethiopia. The Somalia polio cases belonged to cluster N5A that had been circulating in northern Nigeria since 2011. At around the same time, the Global Polio Eradication Initiative (GPEI) entered a new phase with a significant reduction in case counts in endemic countries and a heightened recognition of the risk for the international spread of the virus. In May 2014, WHO declared polio a public health emergency and issued recommendations requiring proof of polio vaccination for travel to and from polio-afflicted countries. The CORE Group Polio Project Kenya and Somalia was established in 2014 to prevent and respond to any future outbreaks by building upon existing NGO child survival experience and expertise.
Today, CGPP Kenya and Somalia works in insecure border districts affected by insurgent attacks, communal violence over grazing lands, and conflict-based mass migrations; political instability and weak health systems additionally contribute to cases of circulating vaccine-derived poliovirus. Frequent cross-border movement of the high-risk mobile populations between Kenya and Somalia and low population immunity in the region place the area at risk for ongoing transmission.
In collaboration with WHO and Kenya and Somalia Ministries of Health, the CGPP began holding cross-border meetings in October 2014 – a significant and instrumental move that would shape a systematic, unified and well-coordinated response in the form of the Cross-Border Health Initiative (CBHI). Known as the "cross-border people," the CGPP Kenya-Somalia program aims to ensure the vaccination of all cross-border populations; supports the detection of suspected cases of AFP; conducts joint case investigations of trans-border AFP cases, and supports all polio SIAs by meeting monthly to support mapping and updating of cross-border villages, crossing points for outreach services, synchronizing polio campaigns and supporting permanent and temporary vaccinations posts during immunization outreaches and SIAs.
A network of Community Mobilizers (CMs) is poised to support structured community-based health volunteers (CHVs.)  The CHVs act as the critical link between the hard-to-reach communities and 122 health facilities, providing essential support to understaffed health facilities Including defaulter tracing. They also work with Care Groups to ensure improved community awareness, mobilization, and participation of community members to improve polio and routine immunization efforts.
The CGPP employs an array of strategies to achieve high levels of population immunity and increase vaccination uptake, such as the synchronization of regular routine immunization services between border villages, integration of vaccination outreaches with nutrition emergency response,  and the active participation of religious and community leaders.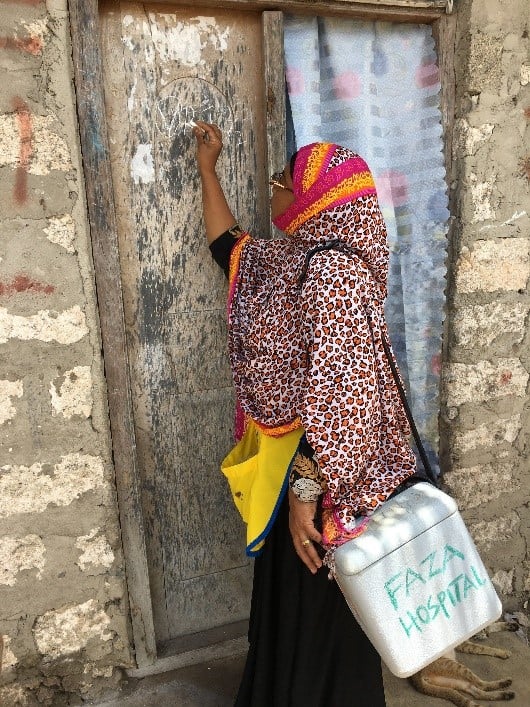 A Community Health Volunteer marks the door of a vaccinated household in Faza settlement located in Kenya's Lamu County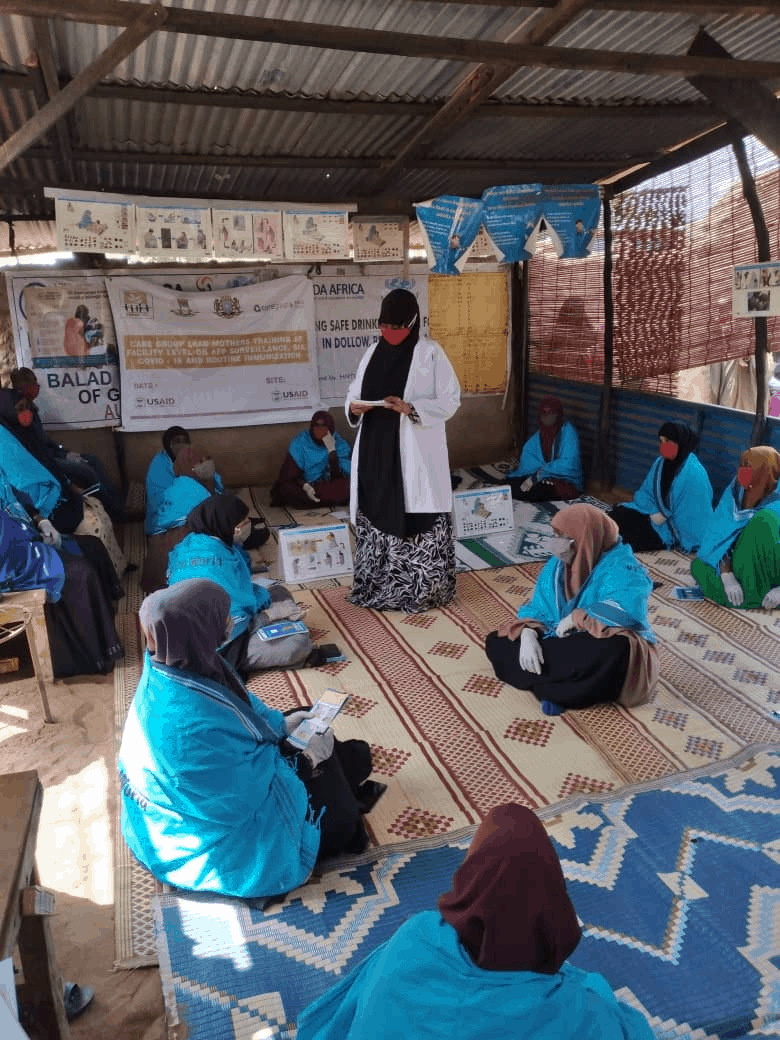 A training of Care Group lead mothers in Belet-hawa district in Gedo region in Somalia addresses COVID-19 prevention and social mobilization efforts for polio activities
A Community Mobilizer in Mandera County in northern Kenya administers Oral Polio Vaccine during an integrated immunization and surveillance outreach during the COVID-19 pandemic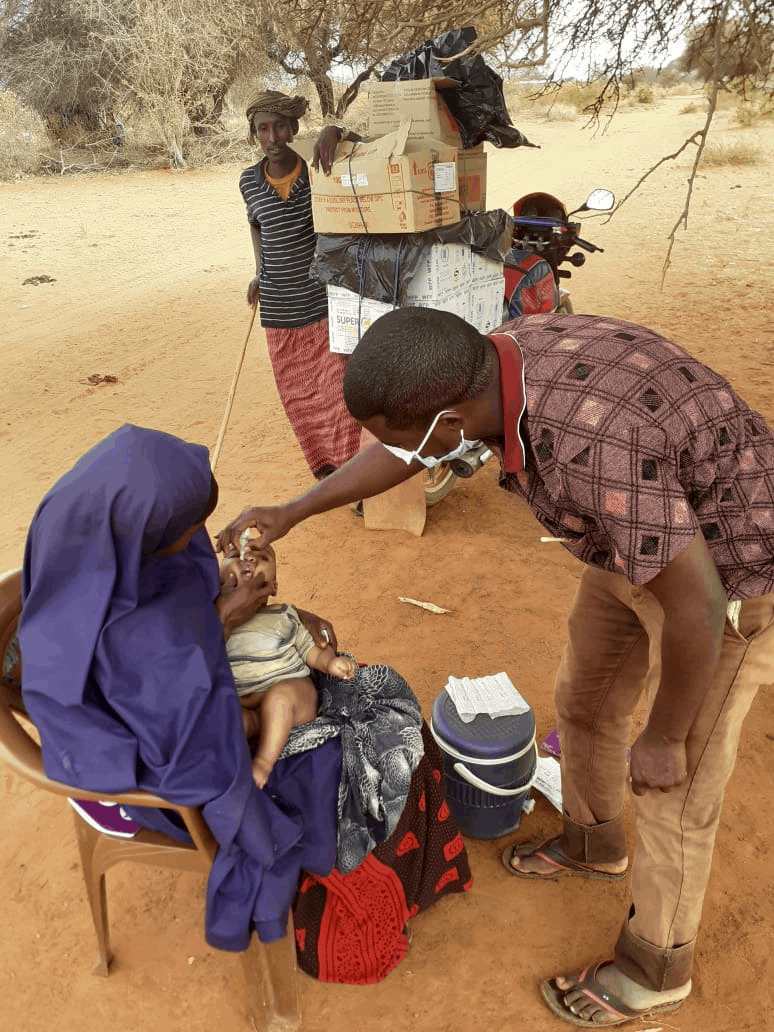 Reaching hard-to-reach populations along the Kenya-Somalia border in Mandera County.
SECRETARIAT STAFF
Ahmed Arale, Director
Somane Mohamed, Deputy Director
Yusuf Ibrahim Ajak, M&E Coordinator
Abdirahman Ibrahim Adan, GHSA coordinator
Abubakar Salah Farah, Program Officer
TECHNICAL ARTICLES
Arale, A.; Lutukai, M. ; Mohamed S.; Bologna L.; Stamidis K.V. (2019) Preventing importation of poliovirus in the Horn of Africa: The success of the cross-border health initiative in Kenya and Somalia. Am. J. Trop. Med. Hyg., 101(Suppl 4), pp. 100–106.
Okiror, S. O., Bisrat, F., Lutukai, M., Bhui, B. R. (2015). Community-based surveillance on polio eradication in the Horn of Africa. African Health Monitor, 19, 44-45.
Okiror, S. O., Kisanga, A., Bhui, B. R. (2015). Cross-border Initiative on Polio Eradication in the Horn of Africa. African Health Monitor, 19, 51 – 52.
Support where it's needed most.
Select a country below to find out more about our efforts and the real people on the front lines.
Graduated Countries