Ethiopia
---
ETHIOPIA
Dr. Filimona Bisrat, CGPP Ethiopia Secretariat and Senior Regional Technical Advisor
Secretariat Host Organization/ Consortium of Christian Relief and Development Associations (CCRDA)
Programmatic Focus/ Reaches underserved rural, pastoralist and semi-pastoralist areas to facilitate opportunities to vaccinate and for case search and reporting to maintain acute flaccid paralysis (AFP) surveillance quality. In 2019, CGPP Ethiopia began integrating community-based surveillance for five priority zoonotic diseases – Rabies, Anthrax, Brucellosis, Leptospirosis and Echinococcosis -under USAID's Global Health Security Agenda (GHSA).
CGPP Implementation Sites/ 85 border districts, or woredas, across the 5 regions of Gambella (13 woredas), SNNP (13 woredas), Oromia (11 woredas), Somali (28 woredas) and Benshangul-Gumuz (20 woredas). The project covers 6.1 million people, or 10 percent of the country's population.
CGPP Implementing Partners/ five international PVOs (Catholic Relief Services, Save the Children, World Vision, International Rescue Committee and Amref Health Africa), and four local NGOs (Pastoralist Concern, Ethiopian Orthodox Church, Ethiopian Evangelical Church Mekane Yesus and Organization for Welfare and Development in Action.)
In November 2001, CGPP Ethiopia began activities to reach the hard-to-reach communities with vaccination services and surveillance. Ethiopia is a country at high risk for importation from neighboring conflict-affected Somalia and South Sudan. The last case of wild polio virus was recorded in January 2014.  Rugged terrain, scattered population settlements, weak health service systems, limited participation of key community members in planning of vaccination activities, and porous borders with polio-endemic areas pose the greatest challenges to control of polio transmission in Ethiopia.  These barriers result in low community awareness about polio vaccination and AFP surveillance; resistance to the polio vaccine is very low.
Ongoing ethnic and tribal conflict in the areas of Somali, Benshangul-Gumuz, Gambella and Oromia regions resulted in the displacement of more than 1 million persons in 2018, impeded project staff movement and impacted project implementation. Another major concern has been the poor access to and the quality of health care, particularly for pastoralist populations and refugees crossing into the country to escape conflict. Moreover, there are significant disparities found across project regions, but all share several features: difficult geographies, weak health infrastructures (with low technical and managerial capacities), bureaucratic systems with little accountability, low routine immunization coverage, poor surveillance systems, unrestricted population movement, and vulnerable populations scattered along the hard-to-reach borders.
The CGPP in Ethiopia has been a pioneer in the use of community volunteers for immunization promotion and community-based surveillance activities. In Ethiopia, more than 12,000 CGPP Community Volunteers (CVs) provide crucial support to increase the coverage of polio and other routine immunizations as well as surveillance of polio, measles and tetanus in hard-to-reach, high-risk, pastoralist and semi-pastoralist regions, which are sparsely populated. CVs, Health Development Army Leaders (HDALs) and Health Extension Workers (HEWs) actively search and report on cases of Acute Flaccid Paralysis, measles and neonatal tetanus and tracked newborns from early pregnancy. They regularly conduct house-to-house health education sessions and social mobilization activities during routine and supplementary immunization campaigns. Increasing the involvement of traditional and religious leaders is among several strategies employed by CGPP Ethiopia to improve community acceptance of the polio vaccine rather than seeking traditional healers for the treatment of vaccine-preventable diseases.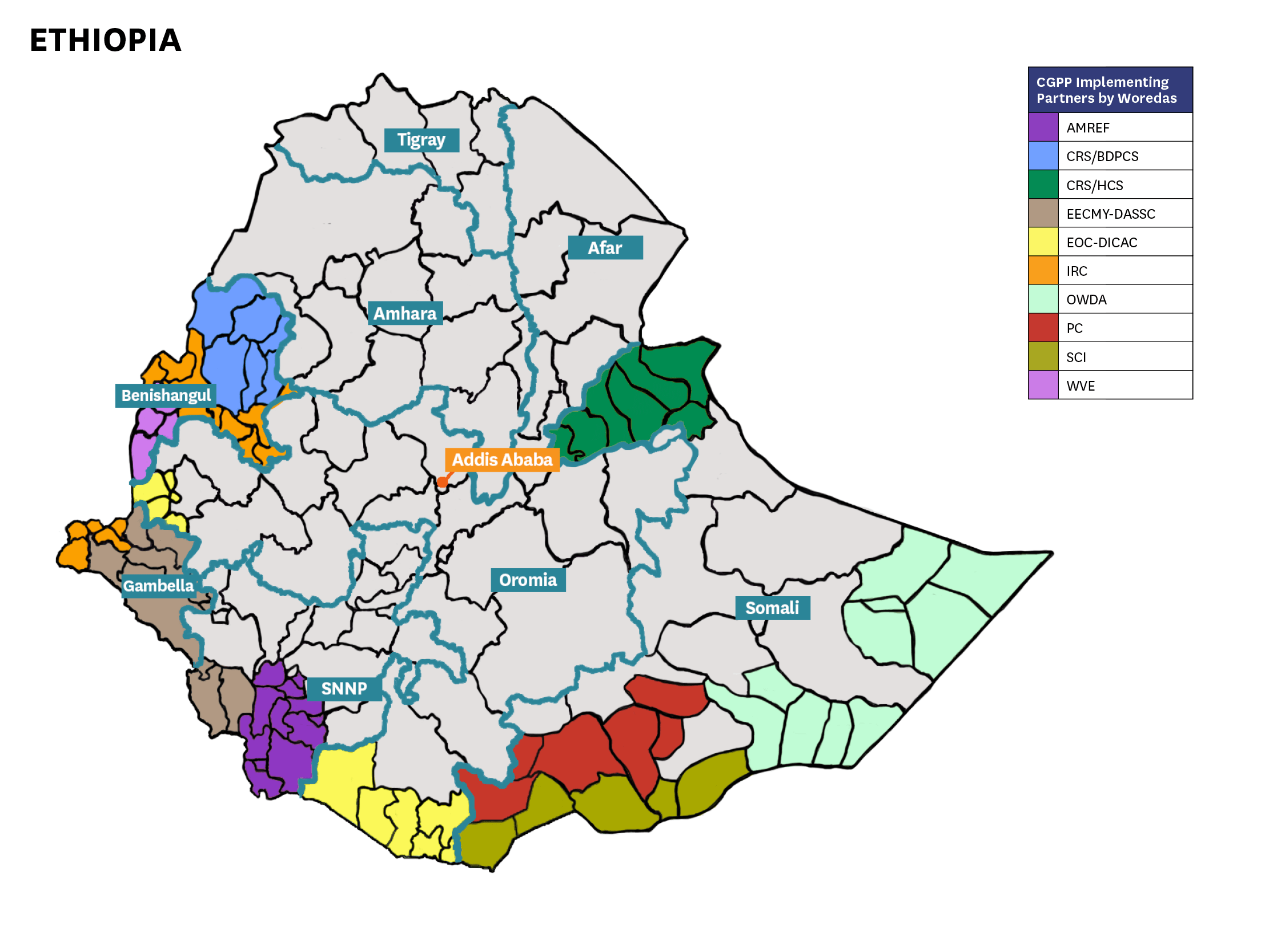 Dr. Filimona Bisrat, Director

Legesse Kidanne, Deputy Director
Muluken Asres, Senior Program Officer 
Asrat Asress, Program Officer
Tenager Tadesse, M & E Officer
Bethelehem Asegdew, Communication Officer 
Solomon H/Selassie, Senior Finance Officer
Bahiru Getachew, Finance Officer

Sophia Yoseph, Administrative & Liaison Officer
Support where it's needed most.
Select a country below to find out more about our efforts and the real people on the front lines.