India
---
Dr. Roma Solomon, Secretariat Director
Secretariat Host Organization/Project Concern International (PCI)
Programmatic Focus/ CORE Social Mobilization Network (SM Net) provides concentrated support in social mobilization for polio and routine immunization in high-risk areas of Uttar Pradesh (U.P) and Haryana.
CGPP Implementation Sites/ 12 districts of Uttar Pradesh, one district of Nuh, (Mewat) Haryana and two districts of Assam through a network of CGPP mobilizers and government frontline workers known as ASHAs, or Accredited Social Health Activists.
CGPP Implementing Partners/ Adventist Development and Relief Association (ADRA), Catholic Relief Services (CRS) and Project Concern International (PCI) and seven local NGOs: ADRA India, Chetanalaya, Gorakhpur Environmental Action Group, Jan Kalyan Samiti, Meerut Seva Samaj, Sarathi Development Foundation and Society for All Round Development (SARD).
Not too long ago, India had been one of the stubbornest places on the globe to eradicate polio. In 2009, India reported 741 polio cases – more than any other country in the world. By 2010, India slashed its reported cases to 42, just a small proportion of the 1,352 global cases. In a truly remarkable accomplishment, India completed 2012 without a single case of wild poliovirus. The country was certified polio free in March 2014.
Sustaining community participation for polio vaccination after achieving polio-free status for more than five years is an immense challenge. Today, CGPP India supports large-scale vaccination campaigns, ensures robust disease surveillance systems and readies with response plans for potential outbreaks. A highly committed field staff continues to maintain high levels of OPV coverage during SIAs and routine immunization.
Formed in 1999, CGPP India vigilantly addresses pockets of low immunization coverage and gaps in surveillance by reaching significant populations of migrants and underserved communities with effective communication interventions for polio campaigns and routine immunization sessions. Central to mobilization efforts are high-quality interactions between vaccinators, community health workers and the mobilizers. CGPP India has about 1,100 social mobilizers who generate demand for the polio vaccine and ensure high uptake of the vaccine.
Through the CORE Social Mobilization Network (SMNet), CGPP India reaches chronically neglected and underserved populations. With its extensive reach, the SMNet provides support through social mobilization activities in a total of 15 high-risk districts. The highly respected network of motivated and dedicated mobilizers taps into years of knowledge, resources and skills to establish trusted relationships with families. The SMNet is a blueprint for how to intimately connect with people, their cultures, and their communities to improve health maternal and child health outcomes in complex settings.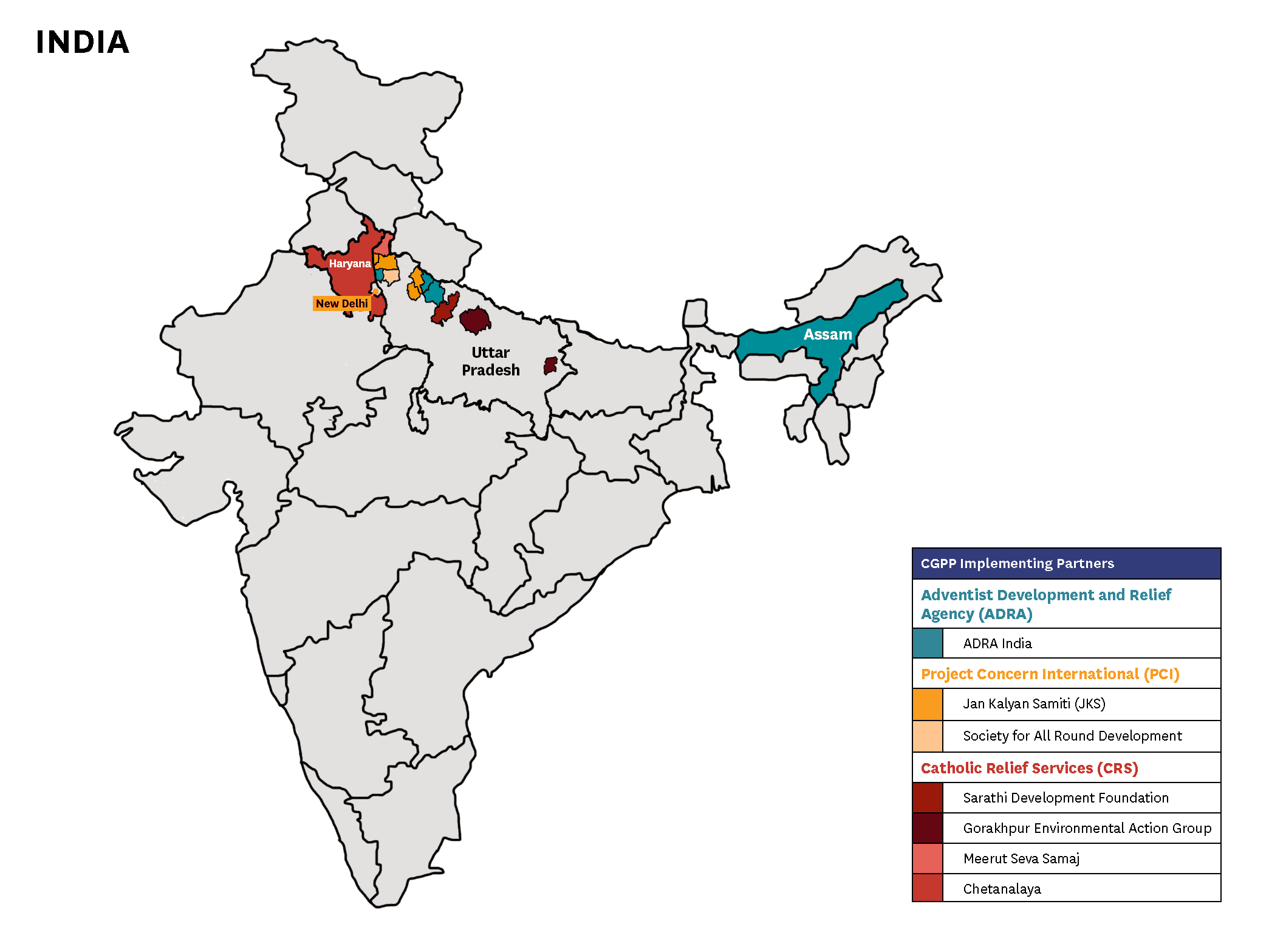 Dr. Roma Solomon, Director
Jitendra Awale  Deputy Director
Rina Dey, BCC Advisor
Manojkumar Choudhury, M&E Specialist
Mrigendra Singh, Asst. Manager Finance & Program Support
REPORTS AND RESOURCES
Even the Smallest Question Should be Answered,  2020
CGPP India News Serial August – September 2020
CGPP India News Serial May-June 2020
Training Package on Coronavirus for Field Staff
Influencing Change: Documentation of CORE Group's Engagement in India's Polio Eradication Programme, 2019
In honor of World Immunization Week 2017, Gavi, the Vaccine Alliance, featured a CGPP interview with a mother from Asmoli village in Utter Pradesh explaining why she is immunizing her baby. See the post on vaccineswork.org, and watch the full interview here.
Social Mobilization: Lessons from the CORE Group Polio Project in Angola, Ethiopia, and India
Meet the community workers who convinced Muzaffarnagar's Muslims to trust the polio vaccine, 2017
Polio Gallery, Moradabad, India, 2014
Thank you letter to CGPP-India from the Commissioner or Moradabad, one of India's highest-risk districts, 2014
Lost & Found: The Magic of CORE's Congratulatory Card, 2013
India CGPP India Baseline Survey report, 2008
TECHNICAL ARTICLES 
Sacks, E.; Schleiff, M., Were, M.; Chowdhury, A.M.; Perry H.B.; (2020)  Communities, universal health coverage and primary health care. Bulletin World Health Organization, 98:773–780
Solomon, R. (2019). Involvement of Civil Society in India's Polio Eradication Program: Lessons Learned. Am. J. Trop. Med. Hyg., 101(Suppl 4), 2019, pp. 15–20.
Awale, J.; Choudhary, M.; Solomon, R.; Chaturvedi, A. (2019). Effective partnership mechanisms: A legacy of the Polio eradication initiative in India and their potential for addressing other public health priorities. Am. J. Trop. Med. Hyg., 101(Suppl 4), 2019, pp. 21–32.
Choudhary, M.; Perry, H.B.; Solomon, R. (2019) Effectiveness of a census-based management information system for guiding polio
eradication and routine immunization activities: evidence from the CORE Group Polio Project
in Uttar Pradesh. Am. J. Trop. Med. Hyg., 101(Suppl 4), 2019, pp. 33–44.
Estívariz, C. F., Jafari, H., Sutter, R. W., John, T. J., Jain, V., Agarwal, A., Verma, H., Pallansch, M. A., Singh, A. P., Guirguis, S., Awale, J., Burton, A., Bahl, S., Chatterjee, A., Aylward, R. B. (2012). Immunogenicity of supplemental doses of poliovirus vaccine for children aged 6-9 months in Moradabad, India: a community-based, randomized controlled trial. The Lancet Infectious Diseases, 12(2), 128-135.
CONFERENCE PRESENTATIONS
Addressing inequity by reaching marginalised groups to improve immunization coverage – Lessons from India Polio Eradication Program for health system strengthening and universal coverage, Power Point Presentation, APHA 2018
Shifting Norms to Conquer Polio: Male Engagement Strategies for Vaccine Defaulters in India and Nigeria, SBCC 2018
More Than a Shave at a Time: A Pilot Initiative to Improve Male Participation in Routine Immunization through Local Barbers in Uttar Pradesh, India
Placing Effective Communication Activities in Reaching People on the Move in Uttar Pradesh, India
Credibility of Community Mobilisers as Messenger in Community-Based Vaccine Trials
Social Norms Affecting Intake of Oral Polio Vaccine Birth Dose in Uttar Pradesh, India: An Exploratory Study Conducted in the Catchment Districts of CGPP India
Videos from India CGPP may be found here
Support where it's needed most.
Select a country below to find out more about our efforts and the real people on the front lines.
Graduated Countries