South Sudan
---
SOUTH SUDAN
Anthony Kisanga, Secretariat Director
Secretariat Host Organization/ World Vision
Programmatic Focus
CGPP South Sudan implements integrated Community-Based Surveillance (CBS) activities in the southern part of the country for four priority diseases: Acute Flaccid Paralysis (AFP) for polio, measles, Ebola Virus Disease (EVD), and COVID-19.  Under the COVID-19 emergency, current interventions focus on active case detection and reporting, risk communication and community engagement (RCCE), and contact tracing and follow up. CGPP South Sudan also supports national independent campaign monitoring for polio and measles, including polio campaign social mobilization within project catchment areas.
Implementation Focal Sites
With support from USAID's Ebola Preparedness funds in August 2019, the CGPP expanded its polio and measles surveillance portfolio to nine-high risk border counties of Magwi, Kajo-Keji, Lainya, Morobo, Yei, Yambio, Nzara, Ezo and Tambura. After the first case of COVID-19 was confirmed on April 5, 2020, CGPP South Sudan rapidly leveraged its existing community-based network and surveillance system to integrate COVID-19 response in four additional counties – Juba, Budi, Kapoeta South, and Kapoeta East – thus increasing community coverage by August 2020 to a total of  13 remote counties in Central, Eastern and Western Equatoria states. These communities are deemed high risk based on geographic proximity to Kenya, Uganda, the Democratic Republic of Congo (DRC) and the Central Africa Republic (CAR).
Implementing Partners
Two national non-governmental organizations (NGOs) – Support for Peace and Education Development Program (SPEDP) and Organization for People's Empowerment and Needs (OPEN) – and international NGO World Vision.
Overview
Since reporting its last wild poliovirus (WPV) case in June 2009 in Northern Bar el Ghazel State, South Sudan struggled with repeated vaccine-derived poliovirus outbreaks in 2014 and 2015. A national outbreak response assessment in 2015 revealed an AFP surveillance system not sensitive enough to detect existing poliovirus cases. As a result, the South Sudan Technical Committee for Polio Eradication requested the CGPP re-direct its focus to community-based surveillance in the northern states.
In October 2015, the CGPP designed and implemented a radically new AFP surveillance system based on the use of unpaid community key informants (rather than health workers) to cover all 33 counties in the conflict-affected states of Jonglei, Upper Nile and Unity. In addition, two border and hard-to-reach counties in the state of Eastern Equatoria (Kapoeta East and Magwi) that share their international southern border with Kenya and Uganda, respectively, were identified for inclusion due to the high volume of traffic passing from Kenya and Uganda into South Sudan, placing both counties at high risk for polio importation. The new strategy allowed the project to cover a much larger area at a reasonable cost by relying on unpaid community key informants to identify and report suspected AFP cases in their communities. The initiative reduced the number of silent counties from eighteen (18) to one (1) and raised the levels of non-polio AFP surveillance to an average of over four per 100,000 children under 15 years old in the states of Unity, Upper Nile, Jonglei and the two counties in Eastern Equatoria state by the end of the project phase (December 31, 2018) which is twice the minimal target rate.
In January 2019, CGPP transitioned CBS activities to high risk counties in three southern Equatoria States and over time integrated the reporting and detecting of measles, EVD, and COVID-19. When the project began its integrated disease surveillance operations in January 2019, four of the nine focal counties had been silent for more than two years; violence in Yei, Lainy, Morobo and Kajo-Keji prevented access to the populations there. In May 2020, the project for the first time was able to begin reporting AFP cases.
The CGPP surveillance system has been effective in insecure environments and where the population has limited access to health facilities. It involves a network of unpaid community key informants (CKIs) at the community level. CKIs are those individuals who are more 'plugged in' to the daily flow of community life and would likely be aware of a person with signs and symptoms suggestive of EVD, polio, measles, or COVID-19.  CKIs are supervised by Boma Health Promoters (health workers based at the primary health center at the lowest administrative unit) who link community key informants to public health services and CGPP project supervisors. CKIs are faith-based leaders, chiefs, headmen, traditional birth attendants, traditional healers, local clinic owners, women and youth leaders, and teachers.
The nature of the CBS system structure through the network of CKIs also provides a link to share health messages and actively listen to community concerns.  The project integrates COVID-19 awareness messaging on prevention and detection into the ongoing sensitization for polio, EVD and measles to educate the community on the novel disease and address misinformation and miscommunication, particularly among rural communities that are oftentimes excluded due to lack of access to health information.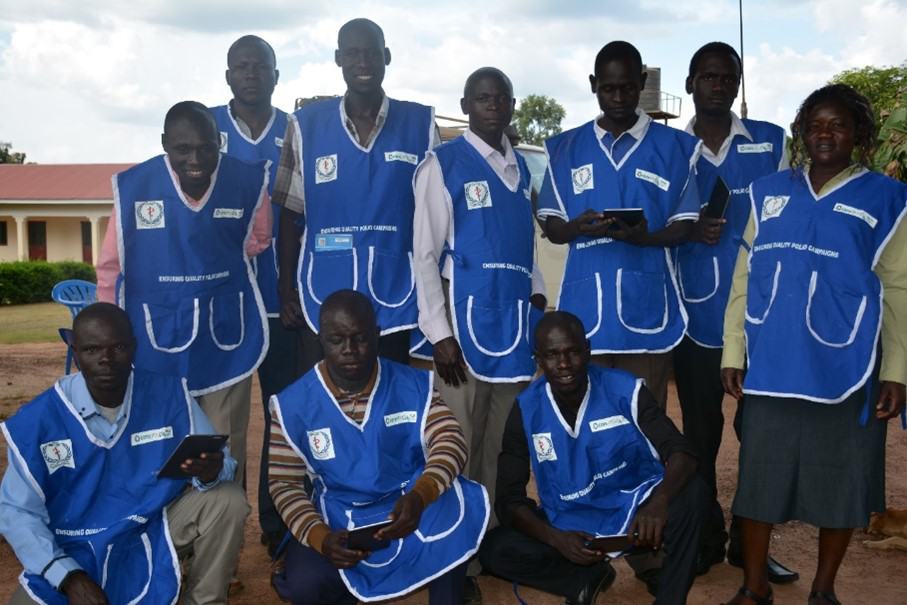 In South Sudan, CGPP recruits teachers as Independent Campaign Monitors to ensure high quality polio campaigns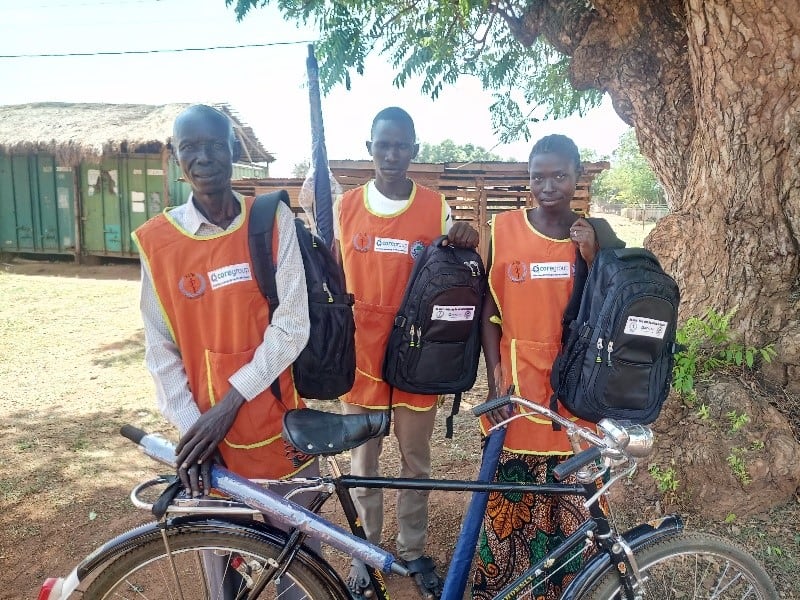 Boma Health Promoters pose in front of their bicycles in Yei Payam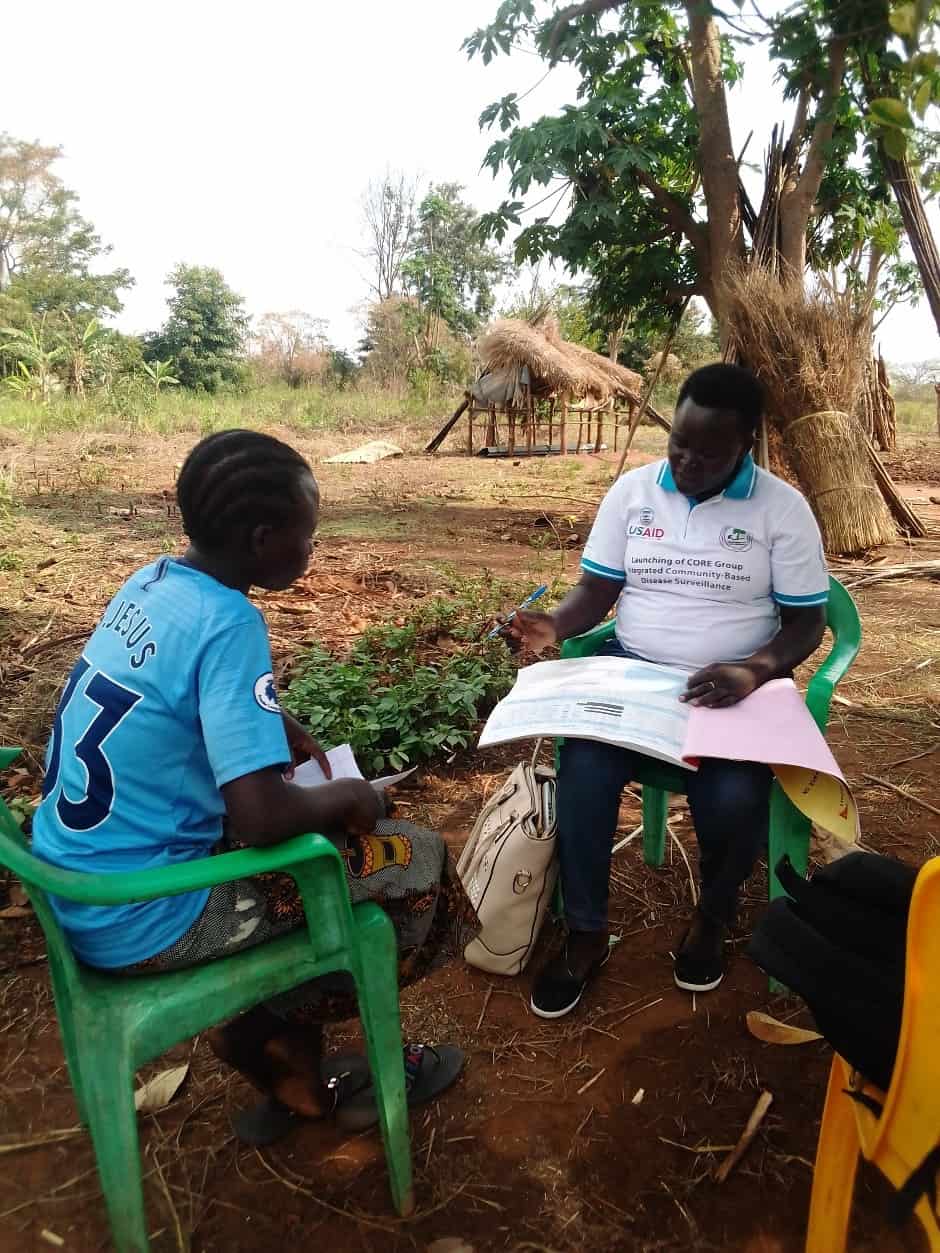 A supportive supervision is held with a Boma Health Promoter in Obba payam in Magwi County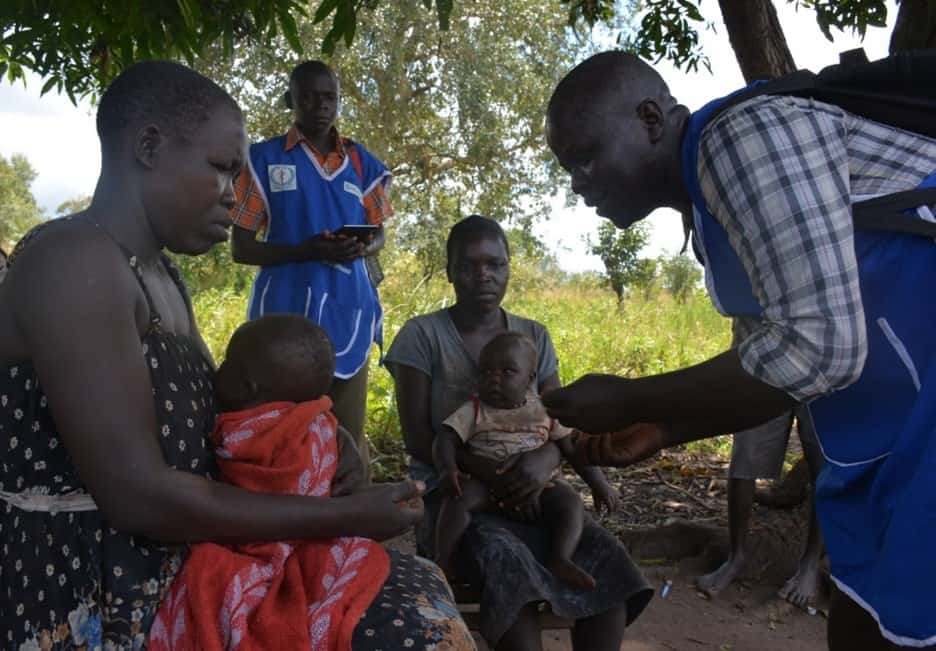 Independent campaign monitors screen children in Jambo village in Yei County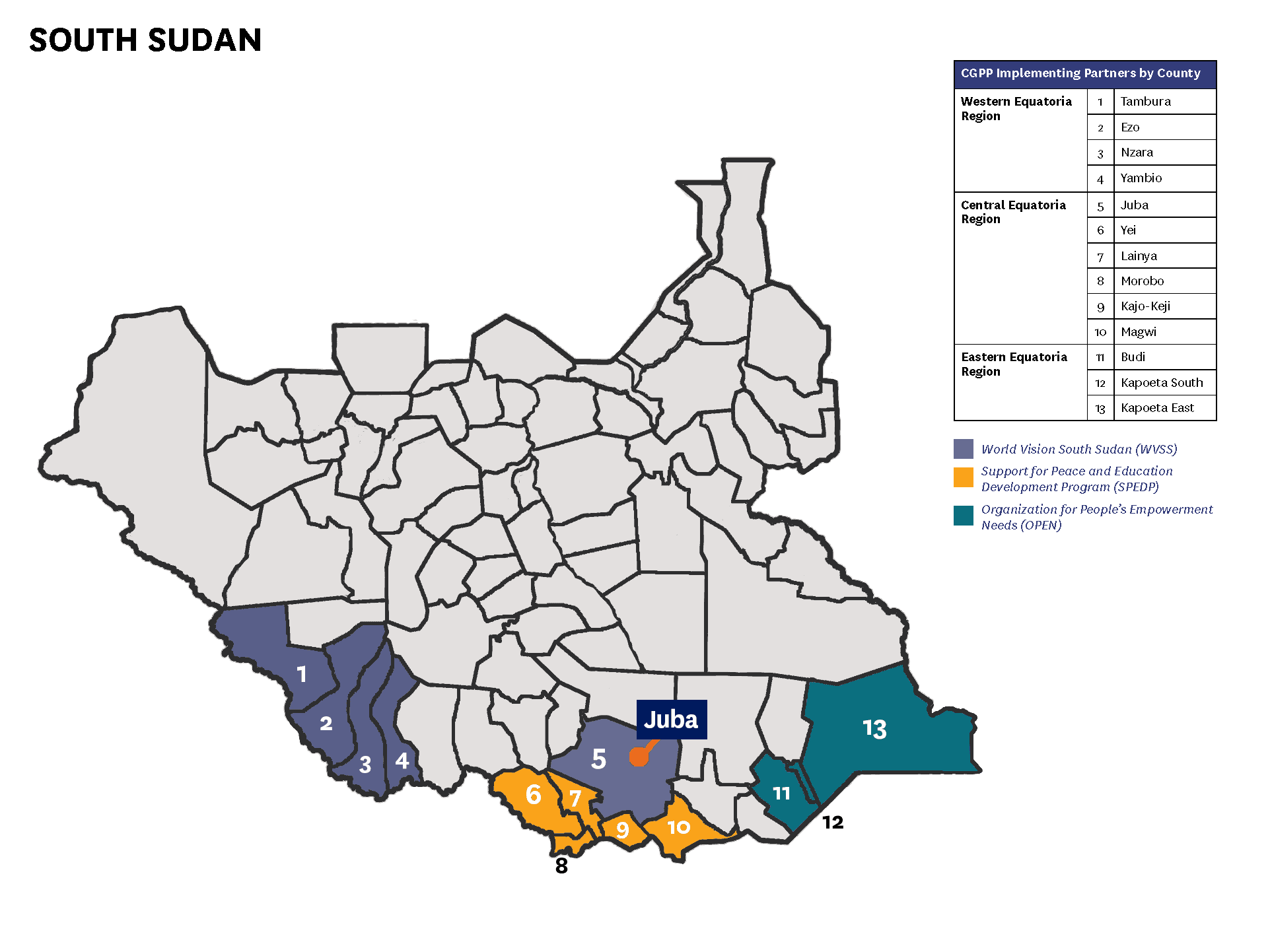 Dr. Anthony Kisanga, Director
Dr. Samuel Rumbe, Deputy Director
Taban Ayoub, Project Coordinator/M&E Officer
Guya Noel, Project Coordinator
Technical Brief: Continuity of CGP-GHS Activities in Ethiopia During COVID-19 Pandemic
Addressing COVID-19 Social Stigma in South Sudan – Channel Africa Podcast, 2020
CGPP South Sudan Trains COVID-19 Responders, 2020
CGPP South Sudan Over 59,000 People Reached Through COVID-19 Awareness Campaign, 2020
South Sudan's 8th African Vaccination Week Campaign, 2018
South Sudan Endline Evaluation, 2017
CORE Group Polio Project Featured in Global Health Cluster Photo Essay, 2017
TECHNICAL ARTICLES
Kisanga A., Abiuda B. (2019). Evaluation of the Functionality and Effectiveness of the CORE Group Polio Project's Community-
Based Acute Flaccid Paralysis Surveillance System in South Sudan. Am. J. Trop. Med. Hyg., 101(Suppl 4), 91–99.
Support where it's needed most.
Select a country below to find out more about our efforts and the real people on the front lines.
Graduated Countries