South Sudan
---
SOUTH SUDAN
Anthony Kisanga, Secretariat Director
Secretariat Host Organization/ World Vision
Programmatic Focus/ Independent campaign monitoring, community-based disease surveillance for AFP, measles and Ebola; immunization systems strengthening and limited cross-border meetings and activities with Kenya, Uganda and DRC to share information on polio campaigns, routine immunization and disease surveillance.
CGPP Implementation Sites/ In coordination with national partners, the CGPP conducts country-wide independent campaign monitoring of the country's four national polio campaigns by targeting 80% of counties implementing the Supplemental Immunization Activities (SIAs.) Up until December 31, 2018, CGPP South Sudan conducted community-based surveillance (CBS) activities in the northern states of Jonglei, Upper Nile and Unity to the southern Equatoria Region.
CGPP Implementing Partners (as of December 31, 2018) Support for Peace and Education Development Program (SPEDP), Universal Network for Knowledge and Empowerment Agency (UNKEA), Children Aid South Sudan (CASS), LiveWell, and Christian Mission for Development (CMD).
Although a peace agreement was signed in September 2018 between government and opposition forces and while the security situation appears to be improving, the humanitarian situation continues to remain fragile. The protracted conflict has resulted in the internal displacement of 1.98 million people and the exodus of more than 2.2 million people (UNHCR 2019) to the neighboring countries of Uganda, Ethiopia, Sudan, Kenya, the Democratic Republic of Congo (DRC) and Central African Republic; accordingly, 63% of South Sudanese refuges are children. These critical factors, combined with recent vaccine-derived outbreaks in Kenya and Somalia, underscore the continued need for a strong community-based surveillance network in greatly deprived communities, strengthened Routine Immunization services and strong SIAs to improve coverage in polio-vulnerable communities.
The country's health system is extremely weak. Many health workers, who were primarily responsible for treating children brought to the clinic with AFP symptoms, have fled for security reasons, and many health facilities were destroyed. The numbers of unvaccinated or minimally vaccinated children have increased, as has the threat of vaccine-preventable outbreaks, including polio, measles and neo-natal tetanus. A mere 18.9 % of children were fully immunized, according to the national EPI coverage survey (2017.) The same survey shows that more than 43% of mothers or caregivers in South Sudan are not aware of the benefits of vaccination for their children
South Sudan is dependent on outside help to provide basic health services including routine immunization services. Considering South Sudan's low routine immunization coverage, maintaining high quality coverage through these immunization campaigns is critical to preventing re-importation of the wild polio virus. (Low RI coverage is also the underlying cause of circulating vaccine outbreaks.)
The CGPP designed and implemented the CBS system in South Sudan. It has been a highly effective approach to complement facility-based surveillance, especially in insecure environments. In October 2015, the CGPP shifted its geographic focus and programmatic activities to concentrate on community-based AFP surveillance in 34 counties in conflict-affected areas of Unity, Upper Nile and Jonglei States and the single county of Kapoeta East in Eastern Equatoria State.  (Activities in Unity State technically began in July 2016.) With instability remaining and the pressing need for continued surveillance, the CGPP continued until December 2018 to conduct community-based surveillance in the counties and payams of the three hardest-hit, most infrastructure-poor northern states of Jonglei, Upper Nile and Unity as well as Kapoeta East County in Eastern Equatoria.  The project transitioned BMGF-funded surveillance work to local NGOs recruited and trained by the CGPP.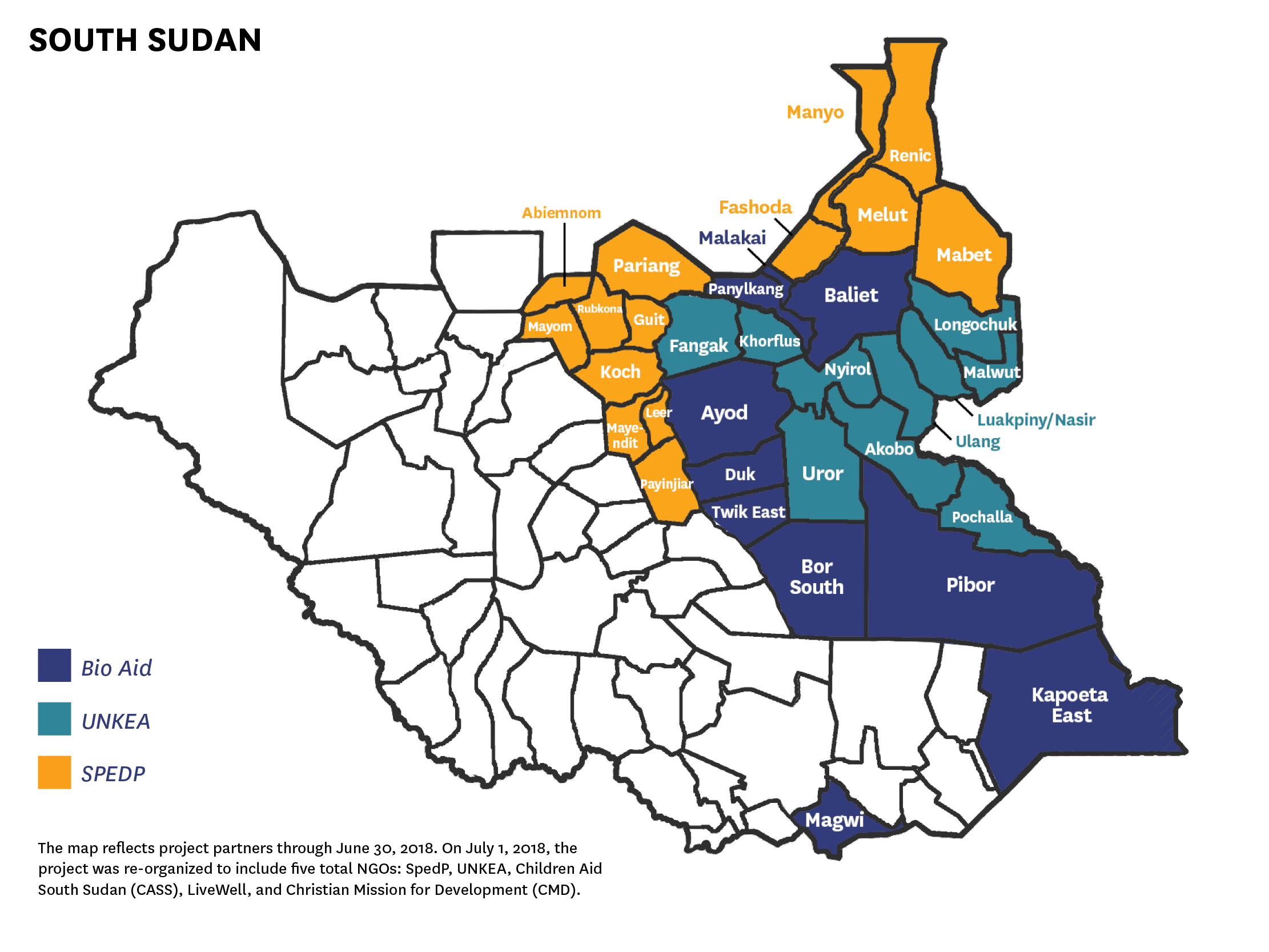 Dr. Anthony Kisanga, Director
Dr. Samuel Rumbe, Deputy Director
Taban Ayoub, Project Coordinator/M&E Officer
Guya Noel, Project Coordinator
Support where it's needed most.
Select a country below to find out more about our efforts and the real people on the front lines.
Graduated Countries