Nigeria
---
Dr. Samuel Usman Secretariat Director
Secretariat Host Organization Catholic Relief Services
Programmatic Focus
Known as the CORE Group Partners Project in Nigeria, the goal of the project is to contribute to polio eradication by increasing population immunity and enhancing surveillance for Acute Flaccid Paralysis (AFP). CGPP Nigeria coordinates and supervises program activities in difficult, hard-to-reach and insecure areas of Northern Nigeria. It plays an important role in promoting the voice and experience of civil society in Nigeria's polio eradication efforts through community-level promotion of immunization and case detection. CGPP Nigeria supports community-based surveillance, outbreak response, and enhanced immunization systems through the dedication of 1,123 active community volunteers who work to raise awareness and reduce misinformation, non-compliance, and vaccine rejection.
Implementation Focal Sites
Five northern polio high-risk states of Borno and Yobe in the North East and Kaduna, Katsina and Kano in the North West. The project's polio work covers a total of 26 Local Government Areas (districts) in the five focal states.  Under the current pandemic emergency, CGPP Nigeria began leveraging its existing community-based network and surveillance system in June 2020 to integrate COVID-19 response in 76 LGAs in five states; scaled-up activities under the COVID-19 response reflect additional LGAs in Kano, Kaduna and Katsina, including all 44 LGAs in Kano, the pandemic epicenter in the north Nigeria.
Implementing Partners
International Medical Corps in Borno and Kano states; Catholic Relief Services in Yobe and Kaduna states, and Save the Children International in Katsina state. The work of the three NGO partners is conducted through six community-based organizations: Archdiocesan Catholic Healthcare Initiative (DACA); Community Support and Development Initiative (CSADI); Family Health and Youth Empowerment (FAHYE); Federation of Muslim Women Association of Nigeria (FOMWAN); Healthcare Education and Support Initiative (HESI) and WAKA Rural Development Initiative.
Overview
On August 25, 2020, the WHO African Region achieved certification of wild polio virus eradication. Nigeria's contribution to this remarkable feat was critical as the last polio-endemic country in the 47-nation region: the last three WPV cases in Nigeria, and all of Africa, were confirmed in three LGAs of Borno state in August 2016.  Just five years earlier in 2012, Nigeria had 122 WPV cases – the highest in the world.  This trend underscores Nigeria's remarkable journey to secure WPV-free status.
The CGPP launched polio eradication activities in Nigeria in late 2013. In 2020, the project's volunteer workforce consists of 1,123 Volunteer Community Mobilizers (VCMs) who move house to house with CGPP-developed flip charts containing key messages to raise awareness on the benefits of polio vaccines, routine immunization, ante-natal care visits, use of mosquito-treated bed nets and other key household practices, including COVID-19 Infection, Prevention and Control measures such as use of face masks, handwashing and social distancing; VCMs play an essential role in countering rumors and misconceptions. Working with health facilities, VCMs conduct defaulter tracking, newborn tracking and referral and community-based surveillance for polio and other childhood diseases. VCMS are supervised by 146 Volunteer Ward Supervisors. In addition, CGPP leverages 750 Community Informants (CI) for early detection of Acute Flaccid Paralysis (AFP) in children under 15 years old. These CIs help strengthen Nigeria's Community-Based Surveillance system.
CGPP Nigeria employs several unique approaches to encourage participation in vaccination services. VCMs reach families at naming ceremonies, or "Suna" in the local Hausa language, to vaccinate children under five years old.   At birth, VCMs mobilize mothers and caregivers of newborns to present the babies for Oral Polio Vaccine (OPV) uptake within the first few critical days of life. Recognizing the role of men as heads of households and decision makers, the project engages them through influential religious leaders as interlocutors for polio vaccination. One particularly effective approach to increase vaccine uptake is the Iftar Intervention, which was piloted by the CGPP in Nigeria in 2017. This strategy engages non-compliant male household heads following evening prayer during Ramadan. During Iftar, the "breaking of the fast," religious leaders share strategic messages about the polio vaccine and engage in two-way communication to solicit questions and provide clarity about myths and misconceptions. These innovative techniques have succeeded in reducing non-compliance by changing resisters into acceptors. Following the dialogue, men are given the opportunity to vaccinate their children. In 2019, 99% of children from non-compliant households that participated in the Iftar Intervention were vaccinated. Similar results were reported in 2017 and 2018.
CGPP Nigeria works in close collaboration with the national and state emergency operations centers to ensure its activities and plans are in line with the National Polio Eradication Emergency Plan (NPEEP) of the National Polio Emergency Operations Center (NEOC). The NPEEP is developed annually and drives the country's polio eradication efforts and aims to strengthen the Routine Immunization (RI) program (coordinated by the National Routine Immunization Coordination Center, or NERICC.) In addition to the NEOC, Nigeria CGPP provides technical support to the High-Level Advocacy Team (HiLAT), the Inter-agency Coordination Committee (ICC) and the Northern Traditional Leaders Committee on PHC and Routine Immunization (NTLC) for conducting advocacy and behavior change at all levels. CGPP Nigeria works closely with WHO, CDC, UNICEF, Rotary and other polio partners. CGPP is also a member of the Covid-19 Command and Control Center of the National Primary Health Care Development Agency (NPHCDA), which oversees the NEOC. NPHCDA recognized the CGPP Nigeria in 2019 and other partners for keeping Nigeria free from WPV for the past three years with an award for exemplary performance.
---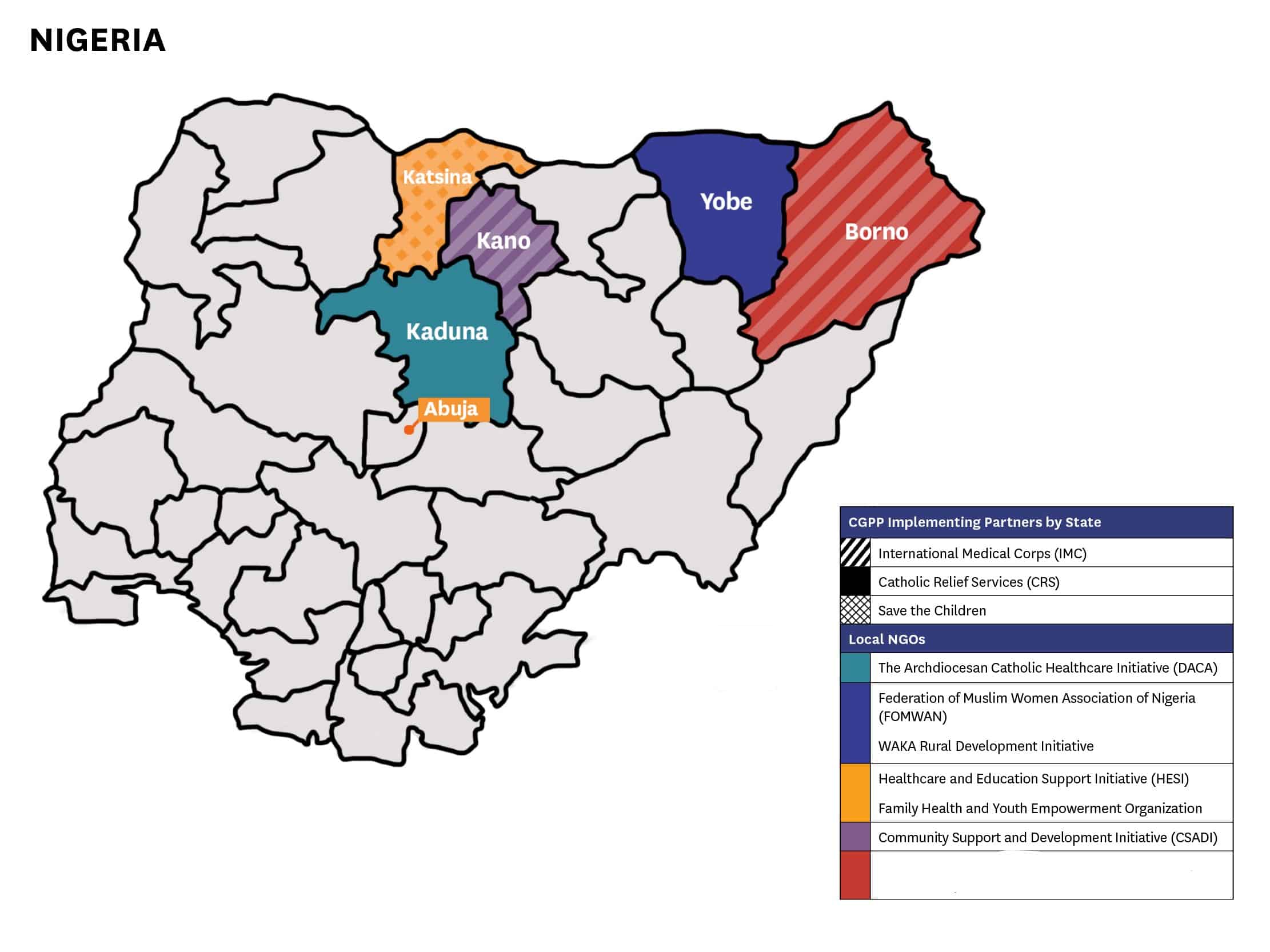 Dr. Samuel Usman, Director
Dr. Opeyemi Adeosun, M&E Officer
Lawan Ibrahim Gambo, Disease Surveillance Officer
NEWS
CGPP Secretariat Director Discusses Leveraging Polio Lessons to Battle COVID-19
PEI Recognition Award to CGPP Nigeria
CONFERENCE PRESENTATIONS
Innovative Approach to Reaching Under-served Children Using Religious Leaders in Polio High Risk Area of Northern Nigeria, 2018
Community Engagement Using Local Resources to Maximize Immunization Uptake, APHA 2017
TECHNICAL ARTICLES
Usman, S.; Bologna, L.; Stamidis, K.V. (2019) The CORE Group Partners Project in North East Nigeria: Community engagement strategies to
combat skepticism and build trust for vaccine acceptance; Am. J. Trop. Med. Hyg., 101(Suppl 4), 2019, pp. 68–73.
Duru, JI.; Usman, S., Adeosun, O.; Stamidis K.V.; Bologna, L. (2019) Contributions of Volunteer Community Mobilizers to Polio Eradication in Nigeria: The Experiences of Non-governmental and Civil Society Organizations; Am. J. Trop. Med. Hyg., 101(Suppl 4), 2019, pp. 74–84.
FIELD STORIES AND ADDITIONAL RESOURCES
Support where it's needed most.
Select a country below to find out more about our efforts and the real people on the front lines.
Graduated Countries