Nigeria
---
NIGERIA
Dr. Samuel Usman, Secretariat Director
Secretariat Host Organization/ Catholic Relief Services
Programmatic Focus/ The CORE Group Partners Project Nigeria aligns its plans and activities with the National Polio Eradication Emergency Plan (NPEEP). The National Polio Emergency Operations Center (NEOC) develops the annual NPEEP. The NEOC also steers activities to strengthen the country's Routine Immunization (RI) program, which is coordinated by the National Emergency Routine Immunization Coordination Center (NERICC). In addition, Nigeria CGPP provides technical support to the High-Level Advocacy Team (HiLAT), the Inter-agency Coordination Committee (ICC) and the Northern Traditional Leaders Committee on PHC Service Delivery (NTLC) for conducting advocacy and behavior change at all levels.
CGPP Implementation Sites/ Five northern states of Borno and Yobe in the North East and Kaduna, Katsina and Kano in the North West. The project's work covers a total of 32 Local Government Areas (districts) in the five focal states.
CGPP Implementing Partners/ International Medical Corps in Borno and Kano states; Catholic Relief Services in Yobe and Kaduna states, and Save the Children International in Katsina state. The work of the three NGO partners is conducted through seven community-based organizations: African Healthcare Implementation and Facilitation Foundation (AHIFF); Archdiocesan Catholic Healthcare Initiative (DACA); Community Support and Development Initiative (CSADI); Family Health and Youth Empowerment (FAHYE); Federation of Muslim Women Association of Nigeria (FOMWAN); Healthcare Education and Support Initiative (HESI) and WAKA Rural Development Initiative.
Nigeria has made dramatic progress in the last several years by shifting from the country with the highest number of Wild Polio Virus (WPV) cases globally in 2012 (122) to 53 cases in 2013, six cases in 2014, four cases in 2016, and to zero cases in 2017 and 2018. Although no cases of WPV have been reported half way through 2019, Nigeria is actively supporting multiple planned Outbreak Responses (OBRs) aimed at stopping the circulation of cVDPV.
The CGPP launched polio eradication activities in Nigeria in late 2013 by contributing to the goals of the NPEEP in high-risk areas through integrating with ongoing child health services. CGPP Nigeria joined the other implementing partners under the general operational auspices of the national and state EOCs. The project has emphasized capacity building to improve the health and well-being of children and women through collaborative action and learning. The project has promoted collaboration between CGPP members, their local NGO partners, the national EOC, NERICC, local Ministries of Health, WHO, UNICEF, Rotary, CDC, BMGF and local levels of government.
The CGPP Nigeria Secretariat coordinates and supervises program activities located in difficult, hard-to-reach and insecure areas of Northern Nigeria. CGPP Nigeria has played an important role in introducing the voice and experience of civil society to Nigeria's polio eradication efforts and contributes to community-level promotion of immunization and case detection. The CGPP supports community-based surveillance, outbreak response, and enhanced immunization systems through more than 2,000 Volunteer Community Mobilizers (VCMs) who conduct awareness raising activities aimed at dispelling rumors and misconceptions about the polio vaccine. VCMs leverage opportunities such as naming ceremonies, or "Suna" in the local Hausa language, to vaccinate children under five years old.   At birth, VCMs mobilize mothers and caregivers of newborns to present the babies for Oral Polio Vaccine (OPV) uptake within the first few days of life. Furthermore, CGPP trained more than 800 Community Informants (CI) for early detection of Acute Flaccid Paralysis (AFP) in children under 15 years old. These CIs help strengthen Nigeria's Community-Based Surveillance system; CBS is the bulwark of early detection of WPV in the country.
Across the five states in 2018, the percentage of newborn children vaccinated with OPV within seven days ranged from 81% in Yobe to 99% in Kaduna in 2018; VCMs mobilized 598,781 households and reached 2.6 million caregivers with messages on the importance of polio and routine immunization.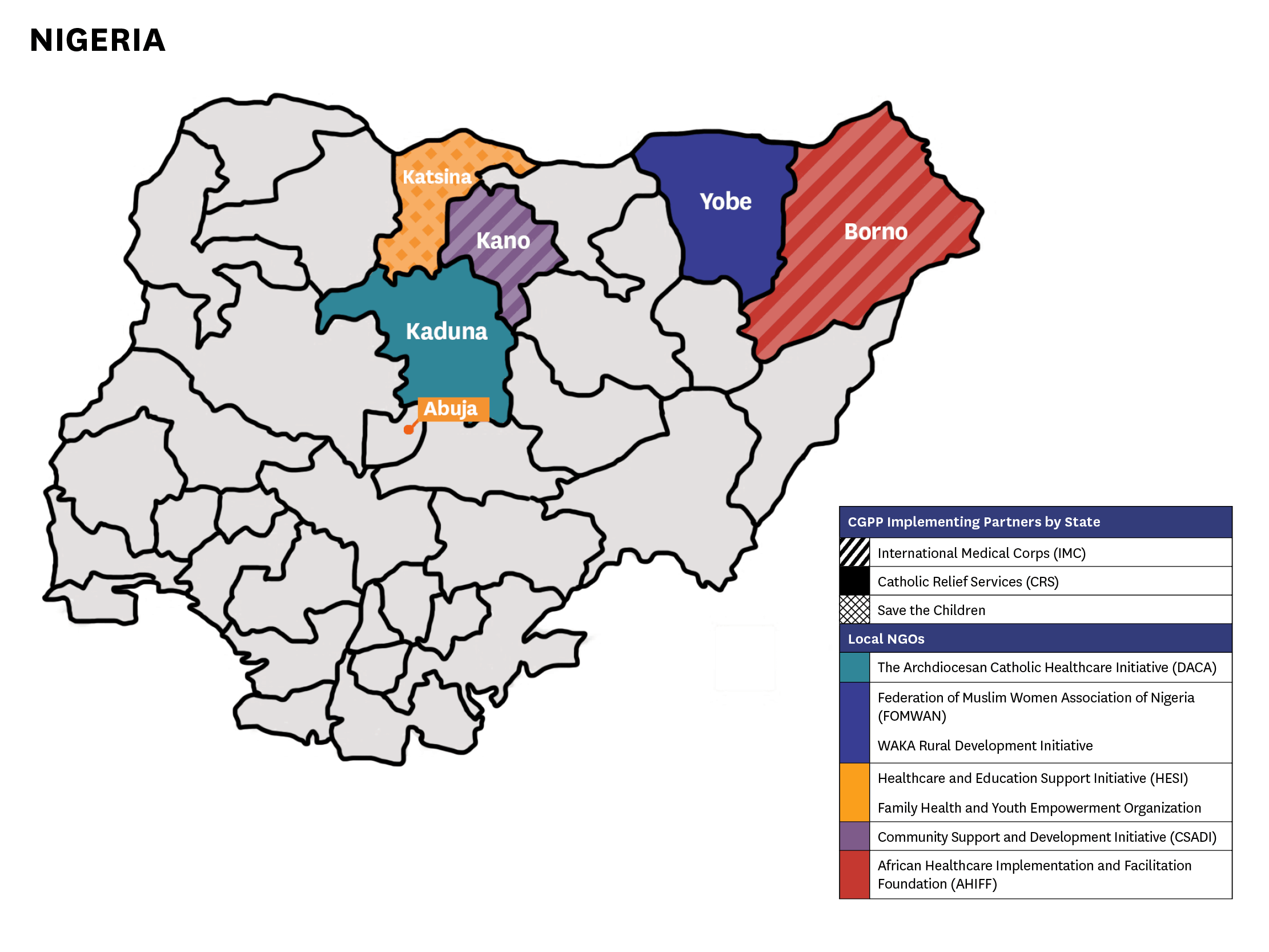 Dr. Samuel Usman, Director
Dr. Opeyemi Adeosun, M&E Officer
Mohammed Zango, Communication Officer
Lawan Ibrahim Gambo, Disease Surveillance Officer
NEWS
PEI Recognition Award to CGPP Nigeria
PRESENTATIONS
Innovative Approach to Reaching Under-served Children Using Religious Leaders in Polio High Risk Area of Northern Nigeria, 2018
Community Engagement Using Local Resources to Maximize Immunization Uptake, APHA 2017
TECHNICAL ARTICLES
Usman, S.; Bologna, L.; Stamidis, K.V. (2019) The CORE Group Partners Project in North East Nigeria: Community engagement strategies to
combat skepticism and build trust for vaccine acceptance; Am. J. Trop. Med. Hyg., 101(Suppl 4), 2019, pp. 68–73.
Duru, JI.; Usman, S., Adeosun, O.; Stamidis K.V.; Bologna, L. (2019) Contributions of Volunteer Community Mobilizers to Polio Eradication in Nigeria: The Experiences of Non-governmental and Civil Society Organizations; Am. J. Trop. Med. Hyg., 101(Suppl 4), 2019, pp. 74–84.
FIELD STORIES AND ADDITIONAL RESOURCES
Support where it's needed most.
Select a country below to find out more about our efforts and the real people on the front lines.
Graduated Countries