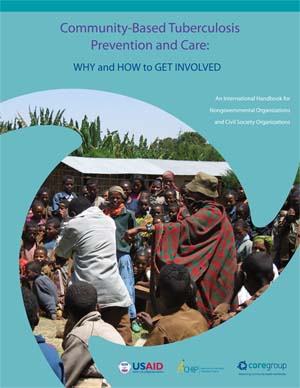 ORGANIZATION
CORE Group
USAID
YEAR PUBLISHED
2013
DESCRIPTION
Tuberculosis is both curable and preventable. The cost of diagnosis and the medicine to treat TB is free for patients in most countries. Yet despite this, women, men, children, and babies are still becoming ill and dying from TB every day. Amazing progress has been made by governments, health systems, the World Health Organization, the Stop TB Partnership, private sector practitioners and companies, advocates, and other organizations. But one group still needs a stronger presence on the team: civil society. This includes community members, nongovernmental organizations (NGOs) and civil society organizations (CSOs) of all kinds, at all levels—from local to global—including community health, education and development efforts, religious groups, patient advocates, maternal and child health programs, traditional groups including healers, kinship groups and neighborhood associations, national and international NGOs, and many more.
But how can they help—especially if they are not health experts? In many ways. People living with TB often live in places that government services have a hard time reaching. TB spreads in households and communities, ranging from rural villages to urban apartment blocks to schools to workplaces and crowded places like workers' hostels and prisons. Within ALL communities, community-oriented efforts can both help prevent the spread of TB AND support diagnosis and treatment. This happens through educating the public and health workers, finding people with TB symptoms and getting them to diagnostic and other services, reducing stigma, offering daily support for those taking the medicines, advocating for improved services—and in many other ways.
This document is designed to serve as a handbook, or primer, for NGOs and CSOs that are considering joining the fight against TB. It provides information on TB and how it is prevented, diagnosed, and treated, how TB programs work on the ground, how communities and CSOs can get involved, and special populations that need extra attention. Step-by-step guidance on getting started in addressing TB, pitfalls to avoid, and a list of useful resources are included.
pdf