By Daleen Saleh Shamaki, CGPP Nigeria Communications Officer
Zainab Zakariya, a volunteer community worker (VCM) in Kano, Nigeria, said she's fortunate to have worked with CORE Group Partners Project (CGPP) for over 8 years. "I love what I do. I love meeting mothers, caregivers, and children because all of them are impacting and affecting the change needed to ensure that no child in my community will ever again suffer polio paralysis or any disease outbreak," said Zainab who works in Unguwar Liman Settlement Dausara of Yada Kunya Ward in Ungogo LGA. Since joining the team, Zainab has demonstrated a high commitment to her work, ensuring the completion of all her routine tasks from conducting house-to-house mobilization, routine immunization (RI) tracking and reconnection, special immunization activity (SIA) support, COVID-19 and GHSA sensitization, and active case search for acute flaccid paralysis (AFP) on time and above expectations.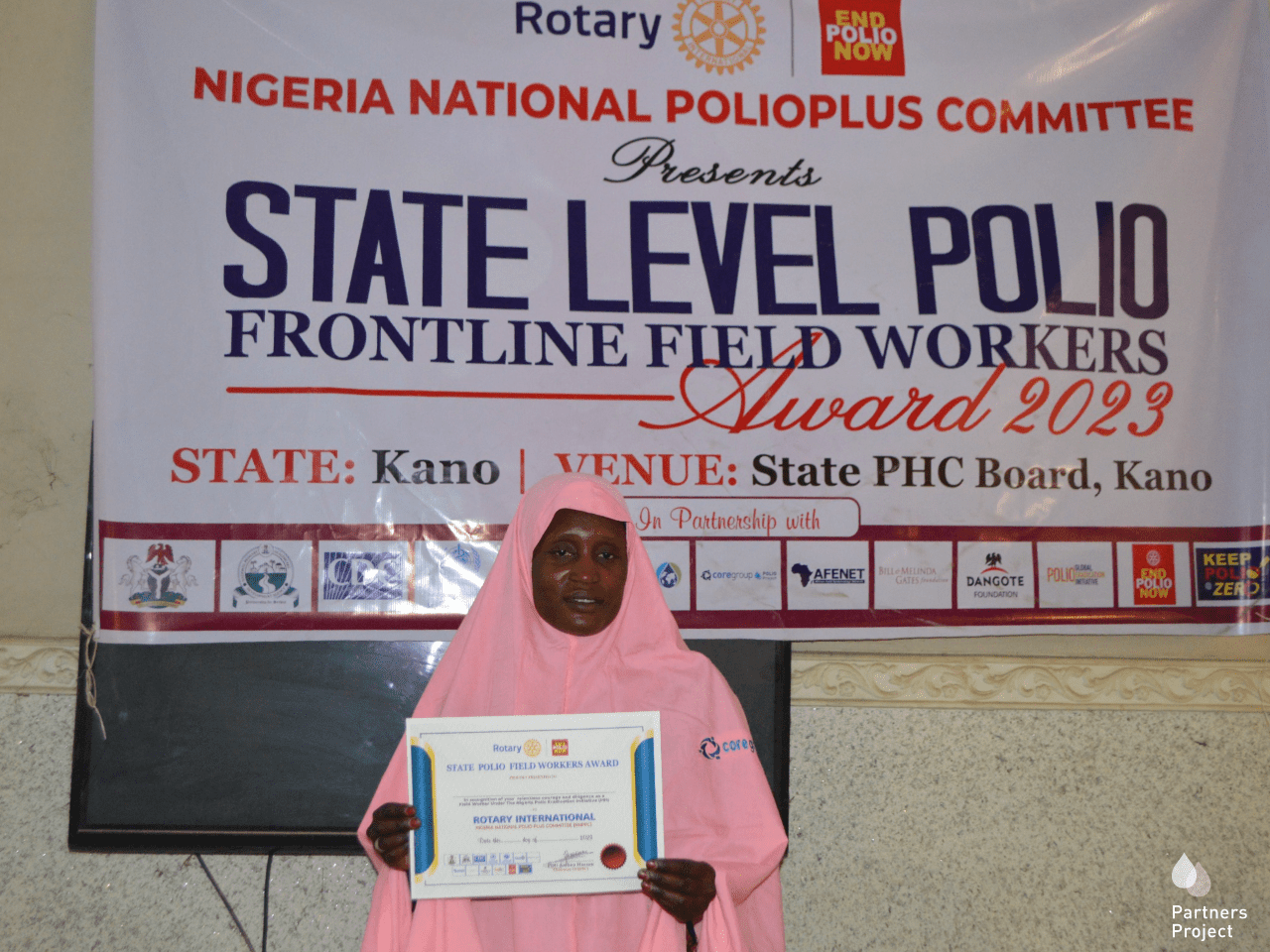 Zainab bridges the primary healthcare facilities and her communities, connecting and engaging mothers, caregivers, and children with much-needed polio information and services. "Her dedication is so outstanding that she is more than just a VCM—she is a community mobilizer in promoting health care services that are accessible and reached by all children and their caregivers," says Sagaf Ahmad the Northeast Director of Rotary International.
During its weekly activities in Kano State, the Rotary Frontline Field Workers honored Zainab as one of the dedicated community workers, they commend her hard work, determination, and steadfast spirit of teamwork that have changed the health of her community and Kano State at large.
But even with the award, Zainab noted some challenges that continue to deter their effort as grassroots mobilizers towards eliminating the polio virus across their communities: "Most times mother/caregivers tend to miss the full dose course of the routine immunization of their children due to distance and nonavailability of healthcare services within their reach, lack of commitment or migrating to other locations in search for greener pastures," she said. But she's determined to press onward. "Nevertheless, I will remain optimistic in ensuring I close such gaps by rededicating myself to ensuring mothers/caregivers spread accurate information on routine immunizations across their friends and relations by ensuring each child is fully immunized through the monitoring processes," she said. "My greatest satisfaction is when, through my accomplishment as a VCM, there is a reduction in AFP cases in my community. To see the smiles on the faces of children and their caregivers gives me joy and a sense of accomplishment because that's my major goal seeing my community free from polio and accepting the vaccines."