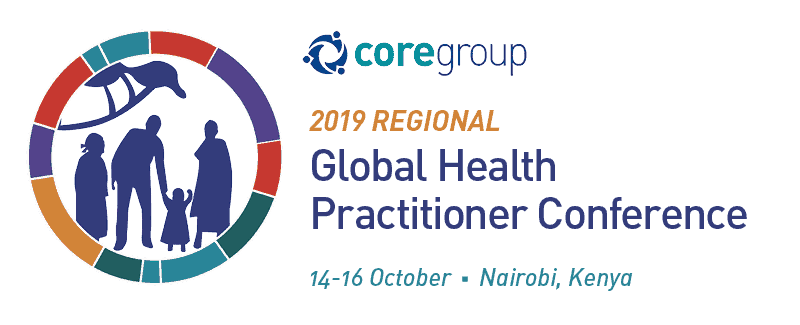 Conference Overview
The 2019 REGIONAL Global Health Practitioner Conference on October 14-16 in Nairobi, Kenya welcomed 253 implementers, academics, donors, private sector, and other community health advocates from over 21 countries representing over 108 organizations. GHPC Kenya was CORE Group's first regional conference convening stakeholders under the following objectives:
Leverage community voices and experiences of frontline health workers, community health workers, community nurses, and other service delivery providers to help identify the kinds and levels of services needed;
Link individuals, organizations, governments, United Nations, donors, private sector, and many other key players both inside and outside the community towards addressing social determinants of health and ensuring everyone works together for improved health outcomes and breaking down silos; and
Learn about best practices and innovative approaches in community health within national and local health systems, as well as consortium building and technical capacity building with strategic focus for improved community health.
The multi-day conference focused on enabling stakeholders to share progress and identify solutions to persistent community health challenges; strengthening the role of community health workers in line with the Sustainable Development Goals and Universal Health Coverage; and informing global, national and local policies and plans through evidence, success, and adaptive learning.
Session Presentations: Monday | Tuesday
New Information Circuits | Poster Session
Program Booklet | Conference Report (upcoming!)
---
Innovation Panel
9:00AM-10:00AM
Innovations to Strengthen Health Systems
Allyson Nelson, Program Manager, D-Tree International Zanzibar; Dr. Lola Dare, Chief Executive Officer and Secretary of the Governing Council, CHESTRAD; Faith Opiyo, Sexual Reproductive Health Rights Advocate and Founder, Center for Young Women Empowerment; Crystal Lander, Director of Advocacy, Living Goods (Moderator)
Presentation_Dare | Presentation_Nelson | Presentation_Opiyo
Pitch Challenge
10:30AM-12:30PM
Innovative Solutions for Stronger Communities
Five teams presented prospective projects with innovative solutions to community health challenges to compete for seed funding and other opportunities. 
Teams
Winner: DEVIE Team Rwanda
Challenge: Increasing rate of teenage pregnancy in Rwanda
Solution: Youth-centered sexual education through comics and videos project
1st Runner Up: Girl Power Kenya
Challenge: Harmful cultural practice of beading young girls into non-marital sexual relationships among Kenya's Samburu communities
Solution: Establishment of a girls parliament to raise awareness and advocate for empowerment; Start dialogue on anti-beading policy with country government and other stakeholders through a technical working group
Finalist: Health Access Connect Uganda
Challenge: Lack of access to health services and information for remote communities
Solution: Expansion of existing health service delivery model using boda-bodas (hired motorcycles)
Finalist: PaRENT Global
Challenge: Lax attention to the nurturing care of children, including caregiver mental health
Solution: Publication of Nurturing Care Group training manual to scale up the Nurturing Care framework
Finalist: Wote Youth Development Projects Uganda
Challenge: Lack of access to youth-friendly sexual and reproductive health centers
Solution: Provide a youth-friendly space for access to sexual and reproductive health products and information
Judges
Rose Njiraini, Community Health Specialist, UNICEF; Josh Kraus, Business Strategy Manager, Health, Accenture; Magnus Conteh, Executive Director, Community Health Academy; Marloes Kibacha, Co-Founder and Operations Director, Africa Health Business Ltd.; Ministry of Health Kenya; John Wanyungu, Official, Ministry of Health Kenya; Nicole Stafford, Strategic Partnerships Fellow, CORE Group (Moderator)
Concurrent Sessions: Learn
2:00PM-3:30PM
Community Health Worker Assessment and Improvement Matrix (CHW AIM): Updated Program Functionality Matrix for Optimizing Community Health Programs
PRESENTERS: Madeleine Beebe, Muso; Crystal Lander, Living Goods; Julius Mbeya, Lwala Community Alliance | MODERATOR: Madeleine Ballard, Community Health Impact Coalition 
To support the operationalization of quality CHW program design and implementation, USAID, UNICEF, the Community Health Impact Coalition, and Initiatives Inc. have updated and adapted the Community Health Worker Assessment and Improvement Matrix (CHW AIM) Program Functionality Matrix. This tool can be used to identify design and implementation gaps in both small and national-scale CHW programs, and close gaps in policy and practice. Session attendees were able to measure their programs against best practice and linked with others around a shared mission of improving quality of care.
Strategic Partnering to Improve Community Health Worker Programming and Performance: Features of a Community Health System Integrated Approach
PRESENTERS: Medhin Tsehaiu, UNAIDS; Patrick Malachi, Micro-Justice Kenya; Angela Gichaga, Financing Alliance for Health; Christine Kisia, WHO Kenya; Judy Macharia, Ministry of Health Kenya | MODERATOR: Elizabeth Wala, Amref Health Africa
This innovative, participatory session included expert perspectives on approaches for operationalizing the recommendations outlined in the WHO CHW Guideline while following the HRH2030 Life Cycle approach. Key questions were discussed, such as:
– What is the first and most critical action country leaders should be taking now to implement the WHO CHW Guideline recommendations?
– To build the future community health workforce, what is the most important partnership to ensure we train the right CHWs in the right health areas?
– To effectively manage and support CHWs, what is the #1 priority to create a better system to manage and support newly recognized CHWs?
– What is the most important consideration for optimizing the role of CHWs within health systems to make them more accessible, accountable, affordable, and reliable?
– What is the most important innovation needed to shape and sustain the role of CHWs in health systems by 2030 and beyond?
Presenters also reflected upon and cited examples from CHW program strengthening activities and results, as well as encouraged participants to share their perspectives.
Improving Quality of MNH/Family Planning in Sub-Saharan Africa
PRESENTERS: Wangui Muthigani, Ministry of Health Kenya; Angela Nguku, White Ribbon Alliance Kenya; Charity Ndwiga, Population Council
Quality and respect are increasingly recognized as critical aspects of the provision of health care, and poor quality may be an important driver of low health care utilization, especially for maternal and neonatal care. The recent report from the Lancet Global Health Commission on High Quality Health Systems suggests that improving facility-based care for all patients can avert a large proportion of mortality and morbidity. Unequal levels of quality may increase inequity, as those who need services most, may be receiving poor quality care, or may be denied care. Important formative work has been conducted in Kenya, and interventions to address disrespect and abuse have been developed and tested in Kenya as well. Many of the potential solutions for improving quality of care and reducing mistreatment of women involve substantial roles for family members and community leaders, including building stronger linkages between community members and health care workers. Building mechanisms for community members to co-design strategies and hold facilities and policymakers accountable strengthens all of these strategies. Current efforts are underway to measure drivers and types of mistreatment, interventions to address the problems, and sustainable ways to provide family-centered and community-engaged care.
This session raised awareness of the issue of mistreatment of women and their families during childbirth and the postpartum period and shared new evidence generated in Kenya on strategies for improving quality and respectful care, including those related to community engagement and family-centered care. The session solicited feedback from participants on effective elements of interventions to address the problem of mistreatment of patients by the health system from audience members, who represent a range of stakeholders. Finally, the session also gathered ideas for more community involvement in design and evaluation of quality improvement initiatives which will be used for future research topics and interventions and program implementation.
Young Health Program Kenya: A Public-Private Partnership Tackling NCD Risk Factors Among Young People (10-24 Years) in Kibera Slums, Nairobi, Kenya
PRESENTERS: Danor Ajwang, Young Health Program, Plan International; Paul Odongo, Young Health Program, Plan International; Dr. Sahra Mohamed, Ministry of Health Kenya | MODERATOR: Dr. Sylvia Vito, AstraZeneca
This session spoke to the objective of enabling stakeholders to share progress and identify solutions to persistent community health challenges. The Young Health Program Kenya seeks to demonstrate how peer education can be an effective behavior change communication model, addressing NCD risk behaviors among young people. It illustrates how multisector collaboration is vital in mobilizing young people to meaningfully contribute towards achieving the UHC goals. The session further sought to demonstrate the underutilized interest of the corporate sector, like AstraZeneca, in working with youth peer leaders to address the increasing burden of NCDs. By bringing Plan International and the local CSOs to the conference, the health workforce had an opportunity to leverage civil society institutions' unique strength to mobilize political awareness and support for NCD prevention and control. CSOs contribute significantly to capacity-building at the local community level – case study of YHP engaging peer educators to sensitize young people in and out of schools on the NCD risk factors. With AstraZeneca actively involved in the implementation of YHP in Kenya, the session demonstrated how the private sector can make a decisively important contribution to addressing NCD prevention challenges. WHO already challenges companies to work closely with governments and CSOs to promote healthy lifestyles and implement action to promote healthy diet. Companies should also adopt and strengthen programmes to improve the health and well-being of their employees through workplace health promotion and specific NCD prevention schemes. AstraZeneca, by involving their staff in YHP, is leading the way on this important ambition.
Presentation |  Video 1 | Video 2
Closing Plenary
3:30PM-5:00PM
The Power of Three: Leverage, Link and Learn
Dr. Diana Nambatya, Deputy Country Director, Community Health Partnerships, Living Goods; Dr. Elizabeth Wala, Program Director, Health Systems Strengthening, Amref Health Africa; Angela Nguku, Executive Director, White Ribbon Alliance Kenya; John Wanyungu, Official, Ministry of Health Kenya; Winfred Apio, Uganda Youth and Adolescents Health Forum; Eric Angula, Head of Strategy & Partnerships, Global Health Africa, Medtronic Foundation; Mercy Juma, Broadcast Journalist, BBC Africa (Moderator)