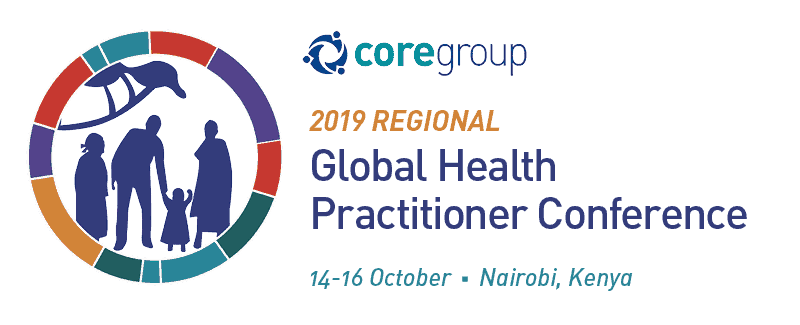 Conference Overview
The 2019 REGIONAL Global Health Practitioner Conference on October 14-16 in Nairobi, Kenya welcomed 253 implementers, academics, donors, private sector, and other community health advocates from over 21 countries representing over 108 organizations. GHPC Kenya was CORE Group's first regional conference convening stakeholders under the following objectives:
Leverage community voices and experiences of frontline health workers, community health workers, community nurses, and other service delivery providers to help identify the kinds and levels of services needed;
Link individuals, organizations, governments, United Nations, donors, private sector, and many other key players both inside and outside the community towards addressing social determinants of health and ensuring everyone works together for improved health outcomes and breaking down silos; and
Learn about best practices and innovative approaches in community health within national and local health systems, as well as consortium building and technical capacity building with strategic focus for improved community health.
The multi-day conference focused on enabling stakeholders to share progress and identify solutions to persistent community health challenges; strengthening the role of community health workers in line with the Sustainable Development goals and Universal Health Coverage; and informing global, national and local policies and plans through evidence, success, and adaptive learning.
Session Presentations: Monday | Tuesday | Wednesday
New Information Circuits | Poster Session
Program Booklet | Conference Report (upcoming!)
Multimedia
View the full GHPC Kenya photo album
Photography by PhotoShots Kenya
Spot GHPC Kenya on National News
More summary videos and interviews coming soon!
Re-live #GHPCKenya on Twitter!
---