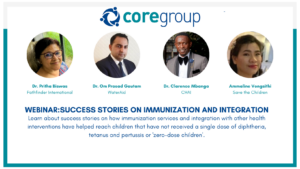 The webinar features speakers from the following organizations
Pathfinder International: Many of Pathfinder's country programs are successfully integrating immunization with other SRH services e.g., FP , ANC etc.  including through mobile outreach events e.g., in Tanzania , and through specific projects e.g. Burundi.
WaterAid: Water Aid is implementing a project on "Hygiene integration into nationwide immunization programme" and this project started from pilot but now scaled at national level "Pilot to Scale". https://washmatters.wateraid.org/hygiene-promotion-through-immunisation
Save the Children: Save the Children is implementing a Primary Health Care program in Luang Prabang Laos. A key activity under this project is supporting the Government of Laos to conduct integrated RMNCAH outreach too hard to reach and remote villages in Luang Prabang Province in Northern Laos. The program has been operating over the last 10 years and is in its final year of implementation having many lessons learned to share.
Clinton Health Access Initiative(CHAI) :CHAI is implementing projects in Cameroon on integrating Hepatitis B birth dose vaccine in birth delivery units. The pilot intervention in Cameroon to improve the timeliness of administration of Bacillus Calmette–Guérin (BCG) and oral poliomyelitis vaccine (OPV0) at birth and support the roll out of the hepatitis B birth dose (HepB-BD) vaccine has yielded positive results. The trial intervention to improve the timeliness of administration of the current birth dose vaccines (BCG and OPV0) demonstrated a substantial increase in the proportion of children receiving both OPV0 and BCG within 24 hours of birth: a 47 and 46 percent absolute increase respectively between baseline and end-line.
Speakers
Dr Clarence Mbanga, CHAI
Ammaline Vongsithi, Save the Children (Laos)
Dr. Pritha Biswas, Pathfinder International
Dr Om Prasad Gautam, WaterAid