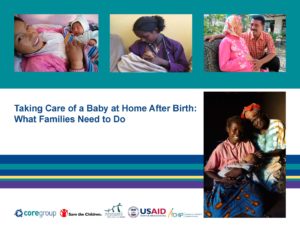 ORGANIZATION
American College of Nurse-Midwives
CORE Group
Save the Children
USAID
YEAR PUBLISHED
2011
DESCRIPTION
This flipbook, released in Nov. 2011, contains key messages that pregnant women and their families need in order to plan care of an infant at home right after birth. It focuses on essential actions families can take both to prevent newborn death and illness and to promote healthy newborn development.
This material encourages use, whenever possible, of skilled birth attendants and clinical services and, where that is not realistic, provides some information on what families can do for pregnant women and care of the baby at birth. Even where mothers deliver with a skilled birth attendant in a health facility, they are often sent home within 6–12 hours of delivery. This material can also be used with women going home soon after delivery in a health facility. It highlights danger signs in the infant that require immediate attention and referral.
This tool was developed by CORE Group, in collaboration with Save the Children, the American College of Nurse-Midwives, and MCHIP.
This material is meant for outreach to pregnant women and their families with poor access to health services. These communities may also have low-literacy levels and/or poor access to health information. It is important to test the material with outreach workers and community members to be sure the messages are understood and acceptable. For guidance on adapting or testing this material, please email contact@coregroupdc.org.
pdf