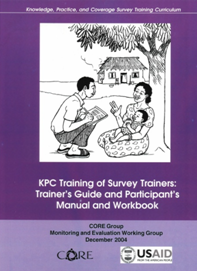 ORGANIZATION
CORE Group
USAID
YEAR PUBLISHED
2004
DESCRIPTION
This training of survey trainers (TOST) curriculum is designed to prepare KPC TOST participants to replicate training activities to teach KPC field staff to carry out a KPC survey.
CORE Group's KPC Curriculum consists of a set of trainer's guides and participant handouts and resources to teach trainers and field workers to carry out a KPC survey. Based on extensive field testing in several countries, the complete set includes three separate instructional manuals.
KPC Training of Survey Trainers: Trainer's Guide and Participant's Manual and Workbook with training development exercises, dialogue education warm-ups, and background information on organizing a five-day KPC workshop.
KPC Survey Training: Trainer's Guide which provides detailed instructions on administering a survey, selecting a sample selection, developing a survey instrument, training supervisors and interviewers, maintaining quality, analyzing results and using the results for program planning.
KPC Survey Training: Participant's Manuals and Workbooks includes a full set of handouts (including those for use as slides or overheads) for core team members, supervisor and interviewer use and for post-survey team analysis.
pdf