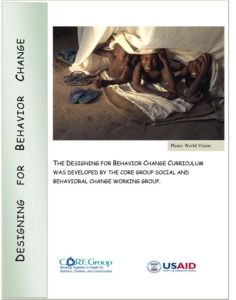 ORGANIZATION
CORE Group
USAID
YEAR PUBLISHED
2008
DESCRIPTION
This field-tested, six-day training package will enable private voluntary organizations (PVOs) and partners to replicate the BEHAVE workshops conducted with CORE Group members in multiple countries and regions around the globe. The manual consolidates handouts and facilitator materials with easy-to-use training guidelines.
The "Designing for Behavior Change" workshop responds to community health managers' and planners' need for a practical behavioral framework that aids them in planning their projects strategically for maximum effectiveness. It is built upon the BEHAVE Framework, developed by the Academy for Education Development (AED). The workshop trains participants to apply AED's BEHAVE Framework to improve maternal and child health programming.
This document was adapted in 2013 for agriculture, natural resource management, health and nutrition. View the updated version here.
pdf