Pre-Conference Workshops for "Delivering for Nutrition (D4N) in South Asia: Implementation Research in the Context of COVID-19"
IDinsight and International Food Policy Research Institute
DATE
December 1, 2021
TIME
9:00 AM
Virtual Participation Available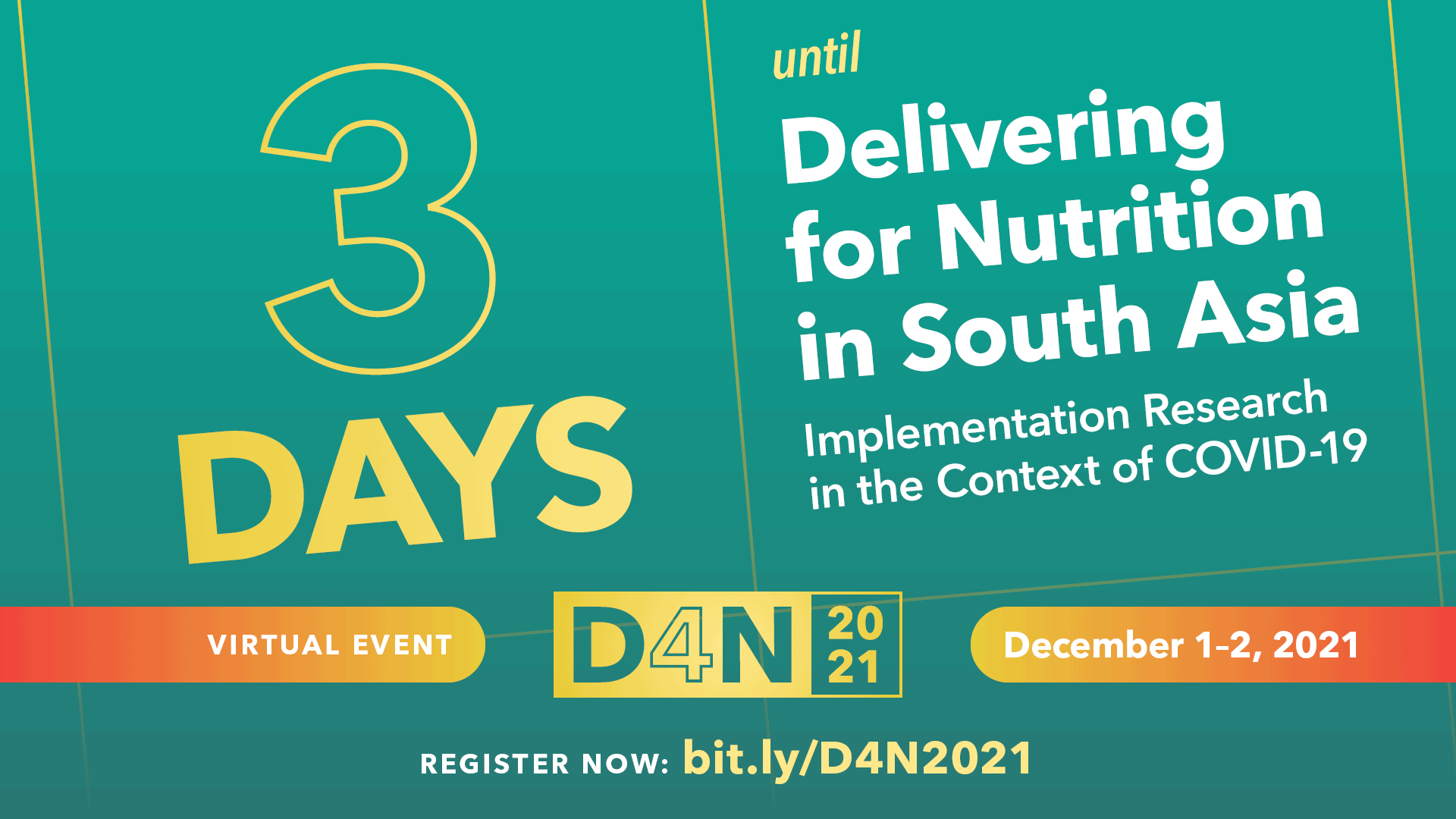 Register for the two pre-conference workshops, hosted as part of the first virtual South Asia-focused implementation research conference "Delivering for Nutrition (D4N) in South Asia: Implementation Research in the Context of COVID-19" from December 1-2, 2021.  
The virtual pre-conference workshops will be held on December 1. Both workshops are focused on aspects of measurement that became salient in the context of COVID-19. 
 The first workshop, "Phone Surveys to Measure Health and Nutrition Indicators: Practical Learnings from Covid-19 Focused Surveys", will be facilitated by IDinsight. With the COVID-19 crisis preventing in-person data collection in many countries, phone surveys have become more vital than ever to collect actionable data for policymakers/program leaders to make life-saving decisions. Through a combination of lecture sessions and group work approach, this workshop aims to provide a clear understanding of the scenarios for phone survey feasibility, solvable operational challenges. There is limited space for this workshop. If you would like to learn more about these aspects, register and join on December 1, from 09:00 am to 11:00 am IST.
The second workshop, "Improving the Measurement of Food Security to Assess Covid-19 Impacts", will be facilitated by IFPRI. As COVID-19 unfolded and the need to understand its impacts became important, different types of measures were used to assess food security, which had implications on the food insecurity estimates. Through a combination of a lectures and guided discussion, this workshop aims to build familiarity with existing approaches to measure food security and ways to continue to assess the impacts of COVID-19 on livelihoods or of COVID-19 social safety net adaptations on food security outcomes for communities and households. Register and learn more about measurement of food security on December 1, from 11:00 am to 12:30 pm IST.
Save the date and register online for one or both workshops!