Conference Review
---



Session Summaries & Presentations
---





Photos
---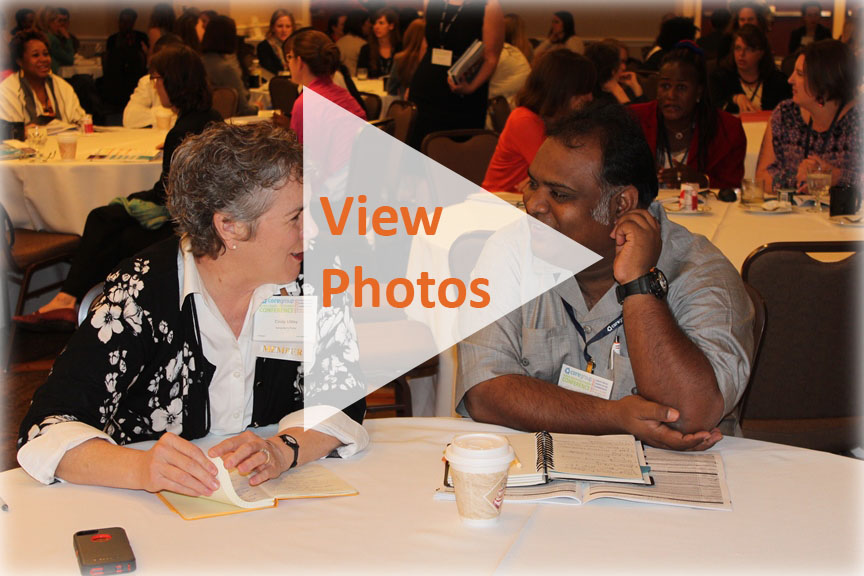 Videos
---
---
Monday, May 5, 2014
Pre-conference Sessions
Understanding the Essential Nutrition Actions Framework
Agnes Guyon, Senior Child Health & Nutrition Advisor, JSI Research & Training Institute, Inc
Jennifer Nielsen, Senior Program Manager for Nutrition and Health, Helen Keller International
Victoria Quinn, Senior Vice President, Helen Keller International
In 2013, the World Health Organization (WHO) released a guide on Essential Nutrition Actions: improving maternal, newborn, infant and young child health and nutrition that summarizes those recommendations which, following systematic review, reflect proven actions that need to be taken to scale within the health sector. This session helped demystify the recommendations and guided participants through practical application, resources, and best practices for improving and expanding existing health programs.
Implementing High-Impact Nutrition Interventions at Scale_Guyon
Case Studies Scale: The ENA Framework_Nielsen
Essential Nutrition Actions Framework: Potential for the SUN Movement_Quinn
Latest Learning and Resources for iCCM
Jane Briggs, Management Sciences for Health
Alexis Heaton, Country Technical Manager, JSI
Sarah Andersson, Country Technical Manager, SC4CCM Project, JSI
Part 1: How to assure availability of medicines and supplies in CCM: an interactive session on supply chain management
How to Assure Availability of Medicines and Supplies in CCM: Supply Chain Management Considerations_Briggs
Lessons for Community Level Supply Chains: Implementing Standardized Resupply Procedures and Team-based Approaches to Improve Supply Chain Knowledge and Practices Among CHWs in Rwanda_Heaton
mHealth and District Teams Increase Product Availability Among CHWs in Malawi_Andersson
Tanya Guenther, Senior Specialist, Health, Monitoring and Evaluation, Save the Children
Dyness Kasungami, MCHIP
Jennifer Winestock Luna, Senior Monitoring and Evaluation Advisor, ICF International
Part 2: Strengthening monitoring and evaluation for iCCM: lessons learned and promising innovations
Strengthening Monitoring and Evaluation for iCCM: Lessons Learned and Promising Innovations_Guenther
Sick Child Module Knowledge, Practice, and Coverage Survey_Luna
---
Tuesday, May 6, 2014
Plenary
Welcome and Overview
Board of Directions
Judy Lewis, Board Chair, University of Connecticut
CORE Group Welcome and Strategic Planning_Lewis
Keynote: "Universal Health Coverage: Lessons from the PAHO Region"
Dr. Carissa F. Etienne,Director, Pan American Health Organization
In the Region of the Americas, several countries have made the political commitment to embrace Universal Health Coverage (UHC). These countries are at different stages along the path towards UHC and are already producing important lessons on enabling factors. The lessons reflect a diversity of experiences based on national, social, and economic realities and the maturity of the health system.
The UHC agenda has triggered an overwhelming response from partners at the country level, as well as in the international community. The Pan American Health Organization (PAHO) has provided critical guidance in the development and implementation of UHC-oriented national policies and strategies. PAHO's country presence, technical know-how, and recognized convening role have been instrumental in supporting Member State efforts to craft a distinct, strategic approach that will make the Americas the first Region in the world to achieve UHC.
In her address, Dr. Carissa F. Etienne, Director of the Pan American Health Organization, Regional Office of the Americas of the World Health Organization, shared new insights on the policy paths countries are following towards the realization of UHC. Dr. Etienne highlighted that UHC is not only about a minimum package of health services. It is not solely about health system financing, neither does it exclude priority health programs, nor does it seek to privatize the health sector.
Concurrent Sessions AM
Adolescent Reproductive Health: What Works, What Doesn't, and How to Tell the Difference
Cate Lane,Youth Advisor, USAID, Global Health, Population and Reproductive Health
Nana Dagadu, Program Officer, Monitoring and Evaluation, Georgetown University Institute for Reproductive Health
In order to maximize progress in adolescent reproductive health, global health experts need to be familiar with evidence-based interventions that have a positive impact. At the same time, attention should be given to reproductive health programs and tools that did not work. This session provided an opportunity to review adolescent reproductive health from the perspective of what works, what doesn't, and how we can learn from both. The presenters provided an overview of tools and techniques, developed for use throughout the stages of adolescence. Participants also gained new information about the ways that social determinants of health contribute to the burden of disease among adolescents.
Programs for Adolescent Sexual and Reproductive Health: What Works?_Lane
Addressing Adolescent Sexual and Reproductive Health: Tools for Positive Youth Development_DagaduChanging Behavior with Women, Girls, Boys, and Men: How Gender and SBC Connect
Amelia Brandt,Program Manager, Medicines for Humanity (moderator)
Elizabeth Romanoff Silva, Improvement Specialist for Gender and Knowledge Management, WI-HER LLC/USAID ASSIST Project
Taroub Harb Faramand,Founder and President of WI-HER and Senior Gender Technical Advisor USAID ASSIST Project
Gillian McKay, Behavior Change Officer, GOAL
Angie Brasington, Community Change and Social Change Advisor, Save the Children
Gender norms, values, and inequality have a direct effect on health outcomes. Social and behavior change strategies designed to increase uptake of key maternal, newborn, and child and nutrition health practices cannot ignore the influence of gender on these practices. This session highlighted learning from select initiatives that have addressed gender in order to improve MNCH outcomes.
IGWG Gender Equality Continuum Tool_ Silva
Gender Integration in Quality Improvement_Faramand
Using Barrier Analysis and DBC in Gender: A Case Study from Sudan_McKay
MCHIP/Egypt: Community-based SBC and Gender Interventions for Maternal, Newborn, and Child Health_Bransington
Integrating Community-Based Strategies into Existing Health Systems: The Unique Role of INGOs
Will Story,Postdoctoral Scholar, University of North Carolina at Chapel Hill
Laura Altobelli, Peru Country Director, Future Generations
Judy Lewis,Professor Emeritus, University of Connecticut School of Medicine
David Shanklin, Independent Consultant
Historically, international non-governmental organizations (INGOs) have served as implementing organizations for communitybased health programs in low- and middle-income countries that lack the capacity and infrastructure to adequately address preventable causes of maternal and child mortality. Recently, there has been a call for INGOs to reevaluate their role in international health and development and shift from a model of direct service delivery to a model that leverages their strengths and experiences to influence health systems, thereby having impact at scale. During this session, presenters introduced a novel conceptual framework that depicts three primary pathways through which INGOs can catalyze the integration of community-based maternal, newborn, and child health strategies into existing structures and systems at the district, national and global level. They also presented three case studies from a variety of INGOs to illustrate the application of the three pathways.
Integrating Community-Based Strategies into Existing Health Systems: The Unique Role of INGOs_Story
Strengthening Community Collaborative Management of Health Services by Building a "model" for Community-based Primary Health Care in Peru_Altobelli
Information Sharing to Change Policy for Child Pneumonia Treatment_Lewis
Senegal Case Study: Scaling Up Community Health Services to the National Level Through INGO Partnerships_Shanklin
Models for Strengthening the Community-based Management of Acute Malnutrition (CMAM)
Hedwig Deconinck, Technical Advisor, CMAM Forum
Maureen Gallagher,Senior Nutrition Advisor, Action Against Hunger-US
Geraldine McCrossan, Health Advisor, GOAL
Jennifer Nielsen,Senior Program Manager for Nutrition & Health, HKI – Session Facilitator
The development of ready-to-use therapeutic foods like PlumpyNut and the simplification of screening using color-coded middle-upper arm circumference measures have revolutionized the treatment of acute malnutrition, but many challenges remain. Among the most pressing are how to integrate these programs into national health systems, ensure reliable supplies of supplementary foods for the treatment of moderate acute malnutrition (MAM), and expand coverage to reach all needy households.
This session included a variety of approaches to strengthening these strategies. Participants learned about: the CMAM Forum, an open-access website that aims to share globally relevant up-to-date information, approaches and services provided by actors in the management of acute malnutrition; ACF's use of socio-cultural assessment to understand community perceptions of acute malnutrition and adapt BCC strategies accordingly; and GOAL's Nutrition Impact and Positive Practice circles, which use micro-gardening combined with nutrition BCC for the management of moderate acute malnutrition.
Information-sharing to Improve Learning About Community-based Management of Acute Malnutrition and it's Impact_ Deconinck
Rapid Socio Cultural Assessments_Gallagher
Nutrition Impact & Positive Practice (NIPP) Project_McCrossan
Concurrent Sessions PM
From Uganda to Lebanon: Experiences with Integrating Early Childhood Development, Health and Nutrition Programs
Inka Weissbecker, Global Mental Health and Psychosocial Advisor, International Medical Corps
Jennifer Burns, Senior Development Nutritionist, International Medical Corps
Mary Helen Carruth, Senior Advisor for Maternal and Child Health, Medical Teams International; Laura Peterson, Founder and Executive Director, Hands to Hearts International
Global research on brain development has demonstrated and validated the crucial importance of quality early interaction between young children and their caregivers. Early Childhood Development (ECD) is critical in laying foundation for human development, lifelong learning and productivity. However, Adverse Childhood Experiences (ACEs), such as: various forms of abuse; neglect; violence between parents/caregivers; other kinds of serious household dysfunction such as alcohol and substance abuse; and peer, community and collective violence; all have lifelong implications for education, health, addiction, violence and even peace. ECD is increasingly being utilized as a highly effective psychosocial intervention by different sectors, including mental health, health and nutrition, and in a variety of contexts. In this session, four case studies were presented from Sierra Leone, Lebanon and two from Uganda, that demonstrated the successful integration and outcomes of merging ECD into emergency, post-emergency, post-conflict and development projects. Case studies described: 1) development/adaption of ECD material to various cultures and contexts, 2) formation of ECD groups, 3) structuring ECD sessions between theoretical and practical training, 4) advocating for peer leaders and training of trainers, and 5) linking of ECD to prevention of ACEs. Country specific data on various outcomes will also be shared, such as ECD knowledge among mothers, health and nutrition knowledge (feeding practices, vaccination), maternal-child interaction, maternal mood/depression, social connectedness, and psychosocial well-being of mothers. The session also included an experiential role play of an ECD activity regarding baby cues.
Experiences with Integrating Early Childhood Development, Health, and Nutrition Programs_Weissbecker and Burns
From Uganda to Lebanon: Experiences with Integrating Early Childhood Development, Health and Nutrition Programs_Peterson
Hidden Populations: How Do We Ensure Nobody Gets Left Behind?
Charlotte McClain-Nhlapo, Coordinator – Disability & Inclusive Development, USAID
Dr. Jack Guralnik, Board Member, HelpAge USA
Gillian McKay,Behaviour Change Officer, GOAL Ireland
Jennifer Snell, Africa Program Director, Healthright International
TJay Thirikwa, Global Fellow, Human Rights Campaign
Antony Duttine, Rehabilitation Technical Advisor in Global Health, Handicap International (Moderator)
Community health programming often calls to reach the most vulnerable or marginalized populations but are we actually achieving this and how do we know if certain populations often seem hidden within their communities. The Secretary-General's High-Level Panel of eminent persons on the Post-2015 Development Agenda called for five transformative shifts in the way we address global development, the first of which was to "leave no-one behind." The report called to "ensure that no person – regardless of ethnicity, gender, geography, disability, race or other status – is denied universal human rights and basic economic opportunities."
This session broke down some of the challenges to identifying, engaging and meeting the needs of some of the often hidden populations in society and discuss ways in which all members of a community can be fully engaged. The session was a moderated debate between experienced panelists working with different marginalized and often hidden populations who discussed experiences, good practices, lessons learned and ongoing challenges. There were no presentations but rather a series of questions and answers both from the moderator and participants of the session.
How to Ensure Counseling is NOT a Mini-Lecture!
Serigne Diene, Technical Advisor, Nutrition and HIV, FHI 360
Rebecca Egan,Technical Advisor, Nutrition and Infectious Diseases, FHI360
Sascha Lamstein, Technical Advisor, SPRING Project/JSI
Janine Schooley, Senior Vice President for Programs, PCI
This session was designed to shine a spot light on counseling, an intervention that we all use, but seldom use well. Participants gained a better appreciation for the challenges and opportunities related to counseling, hear about the importance of counseling in our work. Participants also had a chance to develop a series of counseling "how to's" in order to improve techniques and outcomes.
Three short presentations provided specific examples: Serigne Diene – "Counseling: The 'C' in NACS"; Sascha Lamstein: " Reinforcement Visits as a Way of Ensuring Quality Counseling in Haiti"; and Janine Schooley – "The Role of Negotiation in Counseling: Borrowing from TIPs" (Trials of Improved Practices). We will then facilitate some discussion and role play at each table, followed by a presentation of key findings/discovery and recommendations by each table resulting in a counseling tip sheet (do's and don'ts).
The 'C' in NACS: Counseling as Part of Nutrition, Assessment, Counseling and Support_Diene and Egan
Reinforcing the Quality of Counseling at the Health Facility Level_Lamstein
The Role of Negotiation in Counseling_Schooley
Harnessing the Untapped Potential of Faith Groups to Improve Health Indicators
Victoria Graham,Sr. Technical Advisor, USAID
Nancy Pendarvis Harris,Vice President, JSI & APC
Mona Bormet, Project Manager for Policy/Advocacy, CCIH
Leah Elliott, Sr. Technical Officer, Advancing Partners & Communities (APC)/FHI 360
Faith entities have a long history of working in global health. In some countries, faith led organizations (hospitals, clinics, programs) provide up to 40% of health services, including services to some of the poorest of the poor. Nevertheless, faith entities remain an often misunderstood and underutilized group in our efforts to improve global health, particularly in sensitive areas such as family planning and HIV/AIDS prevention. By overlooking faith entities, we miss the opportunity to
harness their great unrealized potential, as they not only run large health services networks; they are also trusted messengers for health information with deep roots in their communities. And, contrary to popular belief, most faith groups consider family planning to be central to their mission to support women, children and families. This dynamic session explored the roles and capabilities of faith groups to promote healthy behaviors, particularly those related to family planning.
Harnessing the Untapped Potential of Faith Groups to Improve Health Indicators_Graham
---
Wednesday, May 7, 2014
State of CORE Group
Karen LeBan, Executive Director, CORE Group
Plenary
The Inspiration Shop
Stacey Young, Senior Learning Advisor, Bureau for Policy, Planning and Learning, Office of Learning, Evaluation and Research, USAID
Lenette Golding, Senior Technical Advisor Social and Behavior Change & Advocacy, Food and Nutrition Security Team, CARE
Angela Nash-Mercado, Partnership Director, Knowledge for Health (K4Health)
Erin Stieber, Senior Director of Strategic Partnerships, Smile Train
Eric Sarriot, Director, ICF/CEDARS
Part 1: Inspiring Organizational Learning
Everyone agrees that organizational learning is important – why, then, is it so hard to achieve? This session had two parts:
1. A talk about how USAID is working to embed organizational learning in Mission programs, what that takes, what gets in the way, and how partners can help; and a consideration of the lessons that can be learned and applied in other organizations;
2. An invitation to participants to share their own experiences in sparking organizational learning.
Part 2: Igniting Group Creativity
Deadlines. Budgets. Downsizing. And now you need to deliver innovation as well. Where do innovative ideas for health and development work even come from? During this trip to The Inspiration Shop, CORE Group Members reflected on their experiences and experiments in igniting creativity in the workplace. Each panelist illustrated through pictures, short videos, quotations, sounds, and other media what inspires their own and others' creativity.
The Inspiration Shop_Young
The Inspiration Shop_Golding
The Inspiration Shop_Stieber
Lunch Roundtables
Family Planning 2020 Status Update
Jessica Schwartzman,Manager for the Rights and Empowerment Working Group, Family Planning 2020
This session provided a topline status update on Family Planning 2020 (FP2020) including highlights on country progress,
Working Group advancements, and opportunities for deeper stakeholder involvement. FP2020 is a global partnership that
supports the rights of women and girls to decide, freely, and for themselves, whether, when, and how many children they
want to have. FP2020 works with governments, civil society, multi-lateral organizations, donors, the private sector, and the
research and development community to enable 120 million more women and girls to use contraceptives by 2020.
Learning and Practice Alliances
Lenette Golding, Senior Technical Advisor for Social and Behavior Change, CARE
The Learning and Practice Alliance (LPA) approach is a platform which brings together a range of stakeholders to exchange ideas and knowledge, and foster innovation. LPAs are based on the idea that involving decision-makers in the learning process leads to more effective advocacy and policy change. This enables faster adoption and scaling up of findings and a far stronger ability to influence change and achieve results over both policy decisions and development interventions. CARE is using LPAs to generate and share knowledge to broadly influence global practice. Lenette shared how this process works and is unfolding in an integrated nutrition program.
Integrating MIYCN with Family Planning in Yemen: Findings from TIPs Operations Research
Rae Galloway, Technical Lead for Nutrition, MCHIP/PATH
MCHIP is conducting a Maternal, Infant, and Young Child Nutrition and Family Planning (MIYCN-FP) study in Dhamar Governorate in Yemen using Trials of Improved Practices (TIPs) methodology. Mothers were interviewed about their dietary practices and how they feed their children younger than two years of age. Women and their husbands were interviewed separately about healthy timing and spacing of births. The mothers with children were asked to try new MIYCN practices while women and husbands were asked to identify and discuss a new family practice. The information will be used to design a MIYCN-FP counseling book for use at both the facility and community levels.
Integrating MIYCN with Family Planning in Yemen: Findings from TIPs Operations Research_Galloway
Learning from Evaluations: Examples from the Child Survival and Health Grants Program
Kristina Gryboski, Senior Research and Program Learning Advisor, Child Survival and Health Grants Program, USAID
Meredith Crews, Technical Advisor, Child Survival and Health Grants Program, USAID
These days it seems we all struggle to find time to read and stay informed. Beyond tweets, how can we best share learning from
evaluations to spread the word and connect with wider networks? Meredith Crews and Kristina Gryboski from USAID's
Child Survival and Health Grants Program (CSHGP) discussed ideas for how evaluations can hone the focus on understanding
what works, what doesn't and why, and to make findings more easily accessible. Examples were shared from eight CSHGP
partners who recently submitted final project evaluations: Center for Human Services (CHS), ChildFund International, Aga
Khan Foundation (AKF), HealthRight International, Concern Worldwide, Curamericas, Medical Teams International (MTI), and
CARE.
CSHGP Evaluation "Pearls" and OR learning briefs (WV Afghanistan, HKI Nepal, CRS Nicaragua)
Concurrent PM
Evidence for Social Accountability: We Have the Tools, But Is It Working?
Kamden Hoffman, President and Senior Technical Advisor, INSIGHT
Thumbiko Misiska, Project Manager Malawi, CARE International;
Geraldine McCrossan, Global Health Advisor, GOAL
Caroline Poirrier, Senior Program Officer, Results for Development Institute
Citizens' awareness and understanding of their rights and entitlements are core elements of active citizenship. Empowered by such awareness, citizens can become active participants in the reorientation and strengthening of public services. Evidence is growing that when local communities are actively engaged in the assessing and planning of health services, services improve, leakages diminish and utilisation increases. The independent Expert Review Group (iERG) for the United Nations (UN) Secretary-General's Global strategy for women's and children's health called for there to be "a revolution in accountability, putting participatory, democratic review on an equal basis with monitoring in national accountability processes." Despite these approaches' growing popularity it is imperative to generate more evidence to ensure that these approaches, as the iERG puts it, "actually deliver benefits for women and children". The social accountability session explored different social accountability approaches; what contexts these models are most effective in including cultural, economic, social, and political considerations; what the benefits are for woman and children; and ways to support more effective social accountability interventions, including an online platform that will catalog social accountability interventions around the world, facilitate exchange and learning between practitioners and provide tools to support effective social accountability interventions.
The Role of Social Accountability in Improving Health Outcomes_Hoffmann
Community Score Card Evidence of Impact in Malawi_Msiska
Incorporating Community Voices in Social Accountability_McCrossan
Building Evidence and Supporting Effective Social Accountability_Poirrier
eHealth/mHealth: Leveraging Technologies for Systems Strengthening in the Community
Pamela Marks,Senior QI Advisor for HIV/AIDS, ASSIST project
Heidi Good Boncana, K4Health mHealth Portfolio Manager, JHUCCP
Kelly Keisling,Global Healthcare Program Director, NetHope
Vanessa Mitchell, JHUCCP
Peggy Koniz-Booher, Senior Technical Advisor, Nutrition SBCC, SPRING Nutrition Project, JSI Research and Training Institute
This session offered participants the opportunity to hear about new evidence, tools and guidance for eHealth/mHealth programs. Presentations and interactive discussions highlighted issues such as scale-up, sustainability, and privacy considerations. Participants had the opportunity to contribute to a framework for guiding the consideration and use of mHealth technologies in the context of leveraging evidence-based interventions that have been shown to address quality gaps and overcome systems constraints.
Health Sector Approaches to Prevent and Respond to Gender-Based Violence
Phyliss W. Sharps, Associate Dean Community and Global Programs Professor, Department of Community-Public Health, Johns Hopkins School of Nursing
Taraub Harb Faramand, Founder & President, WI-HER LLC (Women Influencing Health, Education, and rule of Law)/USAID Applying Science to Strengthen and Improve Systems (ASSIST) Project
Carolyn Kruger, Senior Advisor Reproductive, Maternal,Newborn and Child Health, Project Concern International
Gender-based violence (GBV); or violence directed at a woman, man, girl, or boy based on that person's sex, gender identity, or how that person meets or does not meet cultural norms of femininity or masculinity; leads to poor health outcomes, hinders development efforts, and prevents those affected from reaching their potential. While it is estimated that more than 1 in 3 women and girls worldwide have experienced either physical and/or sexual intimate partner violence or non-partner sexual violence (WHO, 2013), men and boys are also subjected to GBV, and there is less research and resources surrounding GBV against males. The panel provided an overview of the burden of the GBV in the U.S. as well as in developing countries, presented examples of current program interventions, and offered a basic training for development practitioners in designing, implementing, and evaluating health programs by taking gender-based violence prevention and response considerations into account.
Integrating Agriculture and Nutrition: Understanding Value Chains and Intersectoral Coordination in Practice
Bronwyn Irwin, Senior Technical Director, ACDI-VOCA
Ladd, Senior Technical Director, ACDI-VOCA
Jody Harris, Senior Research Analyst, IFPRI
Aaron Buchsbaum, Knowledge Management Coordinator, SPRING Project
This session explored linkages between agriculture and nutrition in several ways. The session began with an overview of what is meant by the "value chain approach," and addressed common misperceptions about whether and how such strategies can help improve nutritional outcomes. The sessions also included a discussion about how value chains may influence the three key pathways through which agricultural activities potentially contribute to nutrition outcomes: food production, income, and women's empowerment. The panelists presented two case studies: a large Feed the Future market development program in Ethiopia that is using appropriate agricultural analogies to teach nutrition concepts to members of farmers' cooperatives working in six value chains; and a homestead food production project in Burkina Faso in which interviews conducted with managers, frontline workers, and beneficiaries highlighted unique challenges in navigating the intersection between agriculture and nutrition.
Integrating Agriculture and Nutrition_Ladd and Campbell
Growing Together_Harris and Buchsbaum
Working Groups
Community Child Health:
CCM in Emergencies and Fragile Contexts_Nathan Miller
Monitoring & Evaluation:
Keeping the Flame of HIV Prevention Burning_Gloria Ekpo
Nutrition:
Pioneering the Prevention of Malnutrition Under 2 Approach (PM2A): Challenges and Opportunities in Government Coordination
Burundi: Supporting Burundi's Transition From Treatment-oriented to Prevention-oriented Nutrition Programs
---
Thursday, May 8, 2014
Plenary
Strengthening Community Health Systems
Bonnie Keith, Senior Technical Advisor, Advancing Partners & Communities/JSI
Henry Perry, Senior Associate, Department of International Health, Bloomberg School of Public Health, Johns Hopkins University
Strengthening community partnerships and strengthening community-based delivery of health services are now seen as central strategies for improving the health of populations, particularly for reproductive, maternal, newborn, and child (RMNCH) health in resource-constrained settings. Ms. Bonnie Keith presented the Community Health Systems Catalog, a new resource produced by the APC project. The catalog is a first-of-its-kind interactive reference tool on country community health systems. The catalog details the structure, management, human resources, and policies of community-based health programs in each country, and includes country profiles, national policy documents, and other reference materials. This resource is intended for ministries of health, program managers, researchers, and donors interested in learning more about community health activities. Dr. Henry Perry presented an overview and synthesis of the evidence regarding the effectiveness of community-based primary health care in improving maternal, neonatal, and child health as well as an overview and synthesis of recently published literature concerning community-based approaches for RMNCH programming. Based on this, he shared a comprehensive theory of change framework for how interventions and programs can sustainably improve RMNCH at scale which has been developed by a technical team at MCHIP. His presentation also described briefly the newly released final version of MCHIP's Developing and Strengthening Community Health Worker Programs at Scale: A Reference Guide and Case Studies for Program Managers and Policy Makers.
Community Health Systems Catalog_Keith
Community-based Approaches to Improving Reproductive, Maternal, Neonatal, and Child Health_Perry
Concurrent AM
Who's Got Influence: Participatory Mapping of Social Networks 
Laurette Cucuzza, Sr. Technical Advisor Health, Plan International USA
Rebecka Lundgren, Principle Investigator, Institute for Reproductive Health, Georgetown University
Sarah Burgess, Program Officer, Institute for Reproductive Health, Georgetown University
How do new ideas diffuse in a community? Who are the connectors? Who blocks information flow? This session reviewed approaches to harness the power of social networks and discussed participatory mapping exercises designed to engage community members in spreading new ideas. Viewing women and men as members of social networks can help achieve the tipping point in settings where misinformation is the norm and FP use stigmatized. In Benin, Tekponon Jikagou is applying social network analysis methods and theories to address these challenges; testing scalable approaches to address social barriers that prevent individuals and couples from realizing their reproductive intentions. Participants learned approaches to initiate a process of social norm transformation to increase effectiveness of community mobilization initiatives.
Thinking Locally and Acting Globally to End Preventable Newborn Deaths
Joy Riggs-Perla, Director, Saving Newborn Lives Program, Save the Children
Goldy Mazia, Technical Advisor for Newborn Health, MCHIP/PATH
Rachel Taylor, Senior Program Officer, Newborn Health, MCHIP/Save the Children
Brianna Casciello, Program Assistant, MCHIP/PATH
Jennifer Shindeldecker, Program Officer, on behalf of MCHIP/Bangladesh
How can we take action to end preventable newborn deaths in communities around the world? This session shared guidance, lessons learned and resources gleaned from global and local experiences. An overview of the Every Newborn Action Plan (ENAP) was presented and discussed. ENAP is a 'roadmap' developed by global, regional and country stakeholders in an effort to save 3 million lives (newborns, women and stillbirths) each year through improved quality of care at the time of birth and support for small and sick newborns. Following this discussion was a presentation of lessons learned from one Bangladesh program's experience supporting community-based maternal and newborn care. The session also concluded with an interactive review of the latest and greatest newborn health tools and guidelines.
Every Newborn: An Action Plan to End Preventable Deaths_Riggs-Perla
Tools, Guides, & Resources to Improve Newborn Health Programs_Taylor
MCHIP Bangladesh Community Interventions_Shindeldecker
Childhood Tuberculosis and Community Healthcare 
Steve Graham, Professor of International Child Health, University of Melbourne and Consultant in Child Lung Health, The Union
Alan Talens, Health Advisor, World Renew
Anne Detjen, Consultant, Childhood TB and Child Lung Health, The Union
Kechi Achebe, Senior Director HIV/AIDS, Advisor, Save the Children
Fozo Alombah, Technical Program Officer, Global HIV and TB, PATH
Children with TB usually do not present to TB services but remain in the community and are more likely to present to primary health care units, where TB is often mis-diagnosed as pneumonia or other common illness with similar, unspecific presentation. Recommended approaches for symptom-based screening and management offer an opportunity to decentralize TB care of children. Family-centered and community based care models and strategies such as iCCM can be adapted by including simple interventions and used to identify this at-risk population and refer them to the appropriate level of care. The session aimed to show some of these opportunities for intervention and engaged participants in a discussion on how to address childhood TB outside the TB community.
Managing Child TB Where the Children Are_Graham
A Framework for Integrating Childhood Tuberculosis into Community-based Child Health_Talens
A Framework for Integrating Childhood Tuberculosis into Community-based Child Health Care_Detjen
Thinking About Childhood TB-Where Does it Fit in Our Agenda_Achebe
A Collaborative Approach to Improve Management of Childhood TB_Alombah
NACS Users' Guide Consultation
Serigne Diene, Technical Advisor, Nutrition and HIV, FHI 360
Wendy Hammond, Technical Officer, Nutrition and HIV, FHI 360
The Food and Nutrition Technical Assistance III Project (FANTA) provided a consultative session on the NACS User's Guide, a tool to help program managers and implementers integrate nutrition assessment, counseling, and support into prevention, care, and treatment of infectious diseases such as HIV and TB.
Lunch Roundtables
The CSHGP Review – How to Summarize 30 Years of Partnering to Save Lives
Nazo Kureshy, USAID (Moderator)
Mary Beth Powers, Consultant and Author of MCHIP Review of the Child Survival Health and Grants Program
This session provided an opportunity for the CORE Group Members to hear the topline messages that are being incorporated into the CSHGP review that is underway as part of the MCHIP End of Project deliverables. The sessions presented an opportunity to provide comments and insights into participants' views on the accomplishments of the program over the 30 year history.
Three Decades of CSHGP Results_Powers
USAID Nutrition Strategy "Pre-Launch"
Mellen Duffy Tanamly
Graceanna Enzinger
Mike Manske
USAID will launch its updated Nutrition Strategy shortly, with a roll-out over 6 months to missions, implementing partners, and other donors. Participants heard a "pre-launch" overview of the highlights of new directions, priorities, and contributed to a discussion of how people can contribute to spreading the word and supporting key objectives.
Multisectoral Nutrition Strategy 2014-2025_Tanamly
Operations Research That Aims to Draft a BCC Strategy to Improve Quality Of Health Services and Care Seeking at the Community Level
Eve Amoussouga, Principal Investigator and Field Coordinator, Catholic Relief Services
Eve described the innovation, hypothesis, and methodology to carry out the operations research; OR baseline main findings; barriers and enablers to implement the innovation; and the strategies CRS has implemented to addressees those challenges. The next steps to implement the innovation and the process to monitor and evaluate the innovation were also presented.
Communities Accessing Testing for Child Health (CATCH) Benin_Amoussouga
Linking Communities and University-based OBGYN Departments in Sub-Sarahan Africa to Improve Health 
Frank J. Anderson, Associate Professor of OBGYN and Health Behavior and Health Education, University of Michigan Medical and Public Health Schools
A comprehensive approach to maternal and neonatal mortality reduction will require adaptation of modern obstetric practice to rural and community settings. The identification and management of premature rupture of the membranes, premature labor, intrauterine growth restriction, prevention of post-dates pregnancy, gestational diabetes diagnosis and management, early identification and management of preeclampsia, and antenatal fetal assessment for neonates at risk among others. The University of Michigan Global Initiatives is leading a consortium of American – African OBGYN departments who have committed to training partnerships that will train 1000+ new OBGYNs in SSA in the next 10 years. This lunch roundtable offered a brainstorming session as this new initiative is developed so that University-based OBGYN department cans involve and be influenced by community based maternal and neonatal health programs.
Concurrent PM
A 101 (or 100.5) on Systems Approaches to Capacity Building for Community Health 
Eric Sarriot, Director, CEDARS, ICF International
Ligia Paina, Assistant Scientist, Johns Hopkins University Bloomberg School of Public Health
Ilona Varallyay, Senior Program Associate-CEDARS, ICF International
This session included small group work and short presentations. Concepts and activities were familiar to those involved with USAID's Learning Lab, WHO's Alliance Health Policy and Systems Research, and other proponents of "systems approaches". Through practical small group examples, participants gained exposure to tools such as causal loop diagrams and network analysis. The facilitators sought to tease out applications of these tools in the context of capacity building efforts in community health and how they can be used to promote innovation.
A 101 (or 100.5) on Systems Approaches to Capacity Building for Community Health_Sarriot
Causal Loop Diagrams_Paina
Organizational Network Analysis_Varallyay
Global Partners Commit to Harmonizing their Support of CHW and Frontline Health Workers
Allison Annette Foster, Intrahealth
Diana Frymus, USAID
Lesley-Anne Long, mPowering Front Line Health Workers
On November 12, 2013, the Global Health Workforce Alliance (GHWA) along with the global community of government leaders, donors, health workers, and civil society working in the area of human resources for health, announced their commitment to align with country objectives and harmonize their actions supporting community health workers (CHWs) and frontline health workers (FLHWs).
The "Joint Commitment to Harmonized Partner Action for CHWs and FLHWs" is an agreement among health development partners that the country initiatives and programs on community health workers (including volunteer and salaried) and front line health workers will be recognized and supported within national health strategies through harmonized collaboration, accountable actions, and targeted research.
During this session, participants heard a short review of the commitment that was supported in Recife, learned what has happened since the commitment was made, and discussed the importance of harmonization of actors as part of achieving UHC.
Harmonizing Partners' Actions in Support of CHWs and FLHWs_Foster
Global Partners Commit to Harmonizing their Support of CHW and Frontline Health Workers_Long
Community Midwifery and Prevention of Postpartum Hemorrhage: Implementation Lessons from MCHIP and Mercy Corps Pakistan
Sheena Currie, Senior Maternal Health Technical Advisor, Jhpiego/MCHIP
Ali Abdelmegeid, Senior Maternal Health Technical Advisor, Jhpiego/MCHIP
Khatidja Naithani, Senior Program Officer, Jhpiego/MCHIP
Kate Brickson, Senior Maternal Health Program Officer, Jhpiego/MCHIP
Andrea Wilson Cutherell, Deputy Director of Health Programs, Mercy Corps Pakistan
Jennifer Norman, Director of Public Health, Mercy Corps
Postpartum hemorrhage (PPH) continues to be a leading cause of maternal death in developing counties. Diverse program strategies exist to prevent PPH, including engagement with Community Midwives (CMWs) for community-based distribution of misoprostol for use at home birth. MCHIP developed a toolkit and implementation guide for comprehensive PPH programming, including community-based distribution of misoprostol. This interactive session introduced program implementers to the guide and learning materials in the toolkit. Additionally, Mercy Corps Pakistan has developed a commercially viable model for CMWs to offer high quality, life saving, RMNCH services as financially self-sustaining, private providers. This model is being tested both with Afghan refugees as well as Pakistanis in Pakistan's most under-served province of Balochistan, where only 18% of deliveries are conducted by a Skilled Birth Attendant. The sessions highlighted key activities at the policy, service delivery, and community level, including a focus on community-based PPH prevention and treatment. This CMW program provides a practical example of community programming for maternal health, and important lessons learned for PPH prevention and treatment.
Prevention of Postpartum Hemorrhage_Brickson
Commercially Viable Community Midwives_Cutherell
Community Health Workers – The First Line of Defense against Non-Communicable Diseases 
Patience Ekeocha, Associate Medical Director, Morgan State University Health Center and Adjunct Professor, CCBC Baltimore
Sarah Shannon, Executive Director, Hesperian Health Guides
Christy Gavitt, Global Health Consultant
With diagnoses of diabetes, hypertension, cancer, chronic lung disease, and other non-communicable disease (NCDs) increasing worldwide, the epidemic of NCDs threatens to overwhelm under-resourced health systems. Estimates show 80% of NCD related deaths occur in the global south, with an expected increase of 17% in the next 10 years. Community health workers have incredible potential to help address these newer health challenges in their communities and to extend the capacity of health systems. But what are the best roles that community health workers (CHWs) can play in the fight against NCDs? What resources do CHWs have to help them meet these changing circumstances, and how can we help support them? What are some examples of organizations that have mobilized CHWs around NCDs and what can we learn from them? In this session, participants discussed these questions in the context of the NCDs trend worldwide, and how community health workers are a "best buy" for low cost approaches to reducing chronic disease burdens. Participants also examined several case studies for effective community-based strategies to combat these chronic illnesses.
Introduction
CHWs and NCDs_Shannon
Healthy Lifestyle: "NCD Prevention and Control" Curriculum_Gavitt
CHWS: The First Line of Defense Against NCDs_Gavitt
Effectiveness of Care Groups and Interpersonal Approaches: Evidence and a Resource 
Tom Davis, Chief Program Officer, Feed the Children (Facilitator)
Jim Ricca, MCHIP Sr. Learning Advisor, Jhpiego
Henry Perry, Sr. Associate, Department of International Health, Johns Hopkins Bloomberg School of Public Health
Mary DeCoster, Senior Specialist for SBC Programs, Food for the Hungry
Emerging evidence that CSHGP projects doubled the rate of child mortality decline. The results from 12 typical CSHGP projects from 2002 to 2007 (the "pre-OR era") were analyzed by modeling their coverage changes with the Lives Saved Tool (LiST) to estimate U5MR changes and comparing with concurrent measured DHS mortality data. The average coverage changes for all interventions exceeded average concurrent trends from DHS. When population coverage changes were modelled in LiST, they were estimated to give a child mortality improvement in the project area that exceeded concurrent secular trend in the subnational DHS region in 11 of 12 cases. This presentation described the findings of an analysis of the estimated mortality impact of recent Care Group child survival projects compared to child survival projects not using the Care Group approach. This presentation also presented changes and features on Care Groups that are in the soon to be released Food for the Hungry Care Groups manual.
Effectiveness of Care Groups and Interpersonal Approaches_Davis, Ricca, Perry, DeCoster
Lives Saved Tool (LiST) Analysis of Care Group Versus Non-Care Group Child Survival Projects
CSHGP Operations Research Findings: Studying Systems for Community Health 
Jennifer Weiss, Health Advisor, Concern Worldwide
Khadija Bakarr, Field Program Manager, Concern Worldwide
David Shanklin, Independent Consultant
Sharif Ullah Khan, Senior Health Program Officer, AKF
David Hintch, Health Program Officer, AKF
This session focused on operations research findings from CSHGP projects implemented by Concern Worldwide, Aga Khan Foundation, and ChildFund. The presenters discussed the relevance of their studies for community health policy and practice, locally and globally. The presenters also discussed lessons learned about the opportunities and challenges they experienced in carrying out this research.
Results from Concern's Operations Research Intiatives in Burundi and Sierra Leone_Weiss and Bakarr
Operations Research Review_Shanklin
The Chitral Child Survival Project_Hintch
Improving Quality of Care in Partnership with Governments and Communities 
Ciro Franco, Senior Principal Technical Advisor for MNCH, Management Sciences for Health;
Michelle Inkley, Associate Director, Education, Health and Community Development, Millennium Challenge Corporation
Graciela Salvador-Davila, Senior Technical Advisor for Maternal and Newborn Health, Pathfinder International
This session looked at improving quality of care in partnership with governments and communities across different countries and approaches to address iCCM, reducing stunting and postpartum hemorrhage.
Millennium Challenge Corporation_Inkley
Community and Clinical Action_Salvador-Davila
Engaging Communities
Paul Freeman, Clinical Associate Professor, Department of Global Health, University of Washington (Moderator)
Sonya Funna Evelyn, Senior Technical Advisor for Health, ADRA
Ane Adondiwo, EPPICs Project Manager, Catholic Relief Services
Michael Favin, Vice President, Programs, The Manoff Group and Senior Technical Advisor, MCHIP
During this session, participants heard about three examples of strategies to engage communities in improving health, identifying common elements among the three that made them successful.
Community Organizations Key Component in Primary Health Care in Developing Countries_Freeman and Evelyn
Integration of Community Emergency Transport System with Repositioning Traditional Birth Attendants as Link Providers Improves Skilled Assisted Childbirth in Northern Ghana_Adondiwo
Partnering with Communities to Change the Immunization Paradigm_Favin
---
Friday, May 9, 2014
Working Group Report Out
Plenary
Future Directions
Judy Lewis, Professor Emeritus, University of Connecticut (Moderator)
Elizabeth Fox, Director, Office of Health, Infectious Disease and Nutrition, Bureau of Global Health, USAID
Marie McLeod, Director of the Office of Global Health and HIV, Peace Corps
Sam Worthington, President and CEO, InterAction
Three presenters representing Peace Corps, USAID and InterAction shared their organizational perspectives on the global development paradigm shift that is taking place within the U.S. and the world. Over the last eight years INGOs (many members of CORE Group) have experienced shifts in U.S. support to global development. The increase in private investment and remittances now far exceeds funding from bilateral donors. Brazil, Russia, India, and China are transitioning to become aid donors. Inequities are increasing around the world. The U.S. Government has raised global health as a high level security issue. At the same time it has joined other governments in a worldwide commitment to ending extreme poverty and preventable maternal and child deaths. Other USG initiatives are linking nutrition and agriculture toward better food security within Feed the Future and contributing to new global action plans such as the Every Newborn Action Plan, A Promise Renewed, and Family Planning 2020. These strategic shifts are influencing the INGO sector. The "Ahead of the Curve" report on INGOs of the future states that INGOs need to change their strategies to enhance direct implementation, influence systems change, harness the private sector and lead multi-sectoral action. Peace Corps and USAID will share updates on organizational changes and directions, while InterAction will comment on the distinct niche of INGOs in this new environment. A moderated question and answer session will follow. Participants were asked to provide specific recommendations on actions CORE Group can take to strengthen CORE Group as a partner in U.S. and worldwide global health efforts.
Engaging Civil Society
Judith Omondi-Anyona, Program Manager, CRS
Roma Solomon, Director, CORE Group Polio Project and Vice Chair of the Steering Committee, GAVI CSO Constituency
What is Civil Society? What are Civil Society and Government expectations from each other? Why should Civil Society be engaged? And how can we work better with Civil Society? In addition to answering these questions, this session gave a global overview of successes in working with civil society drawing on what has been learned from Immunization (GAVI), and specific successes in harnessing this potential in the India Polio Program and partnership. The session also highlighted the roles and contributions of civil society organizations and how they can support accountability, transparency and sustainability.
Investing in Civil Society Organizations for Sustained Impact_Omondi-Anyona
Engaging Civil Society_Solomon
Closing Remarks
Judy Lewis, Professor Emeritus, University of Connecticut