Leadership in Strategic Communication Workshop
Johns Hopkins Center for Communication Programs
DATE
June 5, 2023
LOCATION
Baltimore, MD USA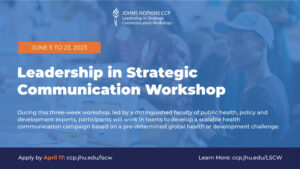 The Leadership in Strategic Communication workshop (LSCW) is a transformative three-week, in-person course that will be held in Baltimore, MD from June 5-23, 2023. Led by a distinguished faculty of public health, policy, and development experts and guided by a learning-by-doing approach, the LSCW is suitable for global health and development project leaders and managers, mid- and senior-level local government officials, donor staff, and health and development professionals. The backbone of the LSCW is built on the P Process, a five-step social and behavior change planning framework, which has guided the creation of social and behavior change strategies for more than 30 years. The LSCW has been updated to acknowledge the real-time, dynamic nature of social and behavior change programming and draws from many disciplines, including communication, design theory, behavioral economics, social psychology, and anthropology.
The LSCW has over 5,000 alumni in 100 countries around the world. Our alumni include country presidents, ministers of health, USAID mission directors, and other leaders in government, public health, global development, medicine, and communication.
Deadline for application is April 17.