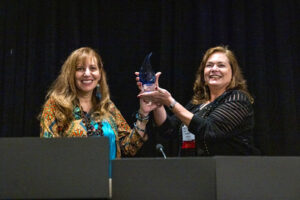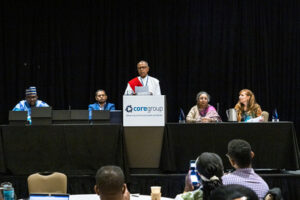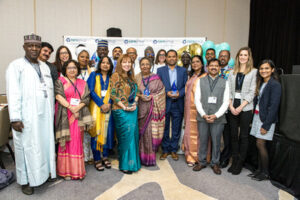 The CORE Group Polio Project (CGPP) received a lifetime achievement award on October 5, in recognition of its 23-year service toward the eradication of global polio at the Global Health Practitioner Conference held in Bethesda, Maryland.
"Receiving a lifetime achievement award allows us to reflect on how we got to where we are…there is a lot our project should be proud of: working with hard-to-reach, marginalized, mobile and displaced populations in border areas and areas with difficult terrain, thus bridging gaps between governments and communities," said Dr. Filimona Bisrat, who has served as the secretariat director of CGPP Ethiopia for 20 years and was chosen to give the acceptance speech among the directors. Bisrat explained that over a decade before CGPP began, the World Health Assembly (World Health Organization's decision-making body) committed to eradicating polio, which at the time, was paralyzing 350 thousand children every year in 125 countries. Now, current wild polio virus cases have decreased by over 99.9 percent, with only two countries remaining endemic.
On behalf of CGPP, Bisrat said that the award is for the real heroes of the work—the more than 20,000 community health volunteers all over the globe who have "worked day and night with unwavering enthusiasm, setting gold standards for future public health programs," pointing to the decentralized and well-established secretariat model the project implemented at its inception in 1999.
Abubakar Salah, Horn of Africa secretariat MEAL (Monitoring, Evaluation, Accountability, and Learning) and communication officer who has been working with this project for three years, agrees that the volunteers deserve the credit. "Changing the mindsets of communities that have low literacy levels and convincing people that their lives can be saved by vaccines, medicines, normal routine checkups, or just basic sanitation is really hard. People are exposed to thousands of misinformation and disinformation myths, stigmas, and hesitancies especially in the realm of vaccines. The community health volunteers are the backbone of the project, ensuring that effective communication is amplified among the community members. The project's success hugely relies on them for being the best health communicators. To dedicate time to convince communities of the best methods to safeguard their health requires energy, patience, and definitely resilience as a communicator," he said.
The secretariat model involves a U.S.-based secretariat which serves as a global CGPP liaison, supplying overall coordination, technical assistance, and financial management to maximize and harmonize resources among partners. Guiding protocols are established by the Global Polio Eradication Initiative partners while in-country secretariats serve as technical guides overseeing quality and standardization of project implementation specific to their contexts.
CGPP is USAID's (United States Agency for International Development) flagship project—a multi-country, multi-partner initiative that goes beyond polio eradication. It also works to strengthen surveillance of zoonotic diseases and to control the spread of COVID-19. The project focuses on vulnerable and hard-to-reach populations, prioritizing field needs through community-driven conversations where CGPP and its implementing partners continually identify, register, and review community concerns. CGPP is currently active in India and eight countries in Africa.
"We know that some of the learnings from polio are more important than ever. The impact is so profound," said Lisa Hilmi, executive director of The CORE Group. Hilmi, who presented the award, said that when she visited the secretariat in Nigeria, she spoke with a young mother who didn't know what immunization or polio was. "It was CGPP community health workers that helped her understand."
USAID Worldwide Polio Eradication Coordinator and Technical Director Ellyn Ogden gave opening remarks for the ceremony, sharing that there have been major obstacles to overcome. "Communities did not always trust the project or vaccinations, and that trust had to be built over time," she said. "It was not easy defining where and how civil society fits into global polio eradication. Many polio partners were skeptical that local volunteers could make a difference. The CGPP volunteers, staff and secretariats proved the skeptics wrong, and the world—especially the children born in the most remote areas—are better off for it."
Bisrat thanked USAID "for its unreserved support and funding of the CORE Group Polio Project, especially USAID's Worldwide Polio Eradication Coordinator, Ellyn Ogden, whose constant support of all our initiatives is responsible for the success of the project." He also thanked the 11 international nongovernmental organizations: World Vision, Catholic Relief Services, International Medical Corps, International Rescue Committee, Project Concern International, Adventist Development and Relief Agency, Health Africa, Alight, CARE International, Medical Teams International, CORE Inc., and over 20 community-based organizations, countries' ministries of health, the World Health Organization, the United Nations Children's Fund, and Rotary International for their continued support and collaboration.
For Catholic Relief Services employee Kathy Stamidis, global senior technical advisor, MEAL and program implementation, winning a lifetime achievement award for the project means recognition of the countless hours of dedication by so many across the world. "I have never been part of an initiative that required such extraordinary levels of collaboration, teamwork, technical skills, and coordination," she said. "To me, this award is a celebration of progress that can be made when everyone contributes their skills and talents to a single cause: polio eradication."
Receiving a lifetime award means motivation and encouragement for CGPP partners, staff, and community volunteers who are working at the grassroots level. It points to the success of the secretariat model to reach the hardest-to-reach and the neediest communities. -Legesse Kidanne, deputy director, CGPP Ethiopia Secretariat
Winning the award means that all of our efforts didn't go to waste, and our hard work and sacrifice was worthwhile. This also encourages me as an individual to continue working hard and creating an impact on the lives of the people we serve. -Jemima Tumalu, communications officer, CGPP South Sudan Secretariat
The award is not for me, but for the field teams that worked day and night to achieve results. CGPP has brought CSO involvement to the forefront rather than an afterthought as is usually done in projects. It's a great feeling to be a part of a global disease eradication effort — a once in a lifetime opportunity. -Roma Solomon, Director, CGPP India Secretariat

"This award has really brought joy and happiness to the entire CGPP staff at all levels and serves as a motivation to do more. It also recognizes the role that CGPP Nigeria played in contributing to polio eradication. It will serve a morale booster to all staff to ensure they work harder." – Lawan Gambo Ibrahim, Communication and Surveillance Team Lead, CGPP Nigeria.
Photos by Matt Ryb Pictures