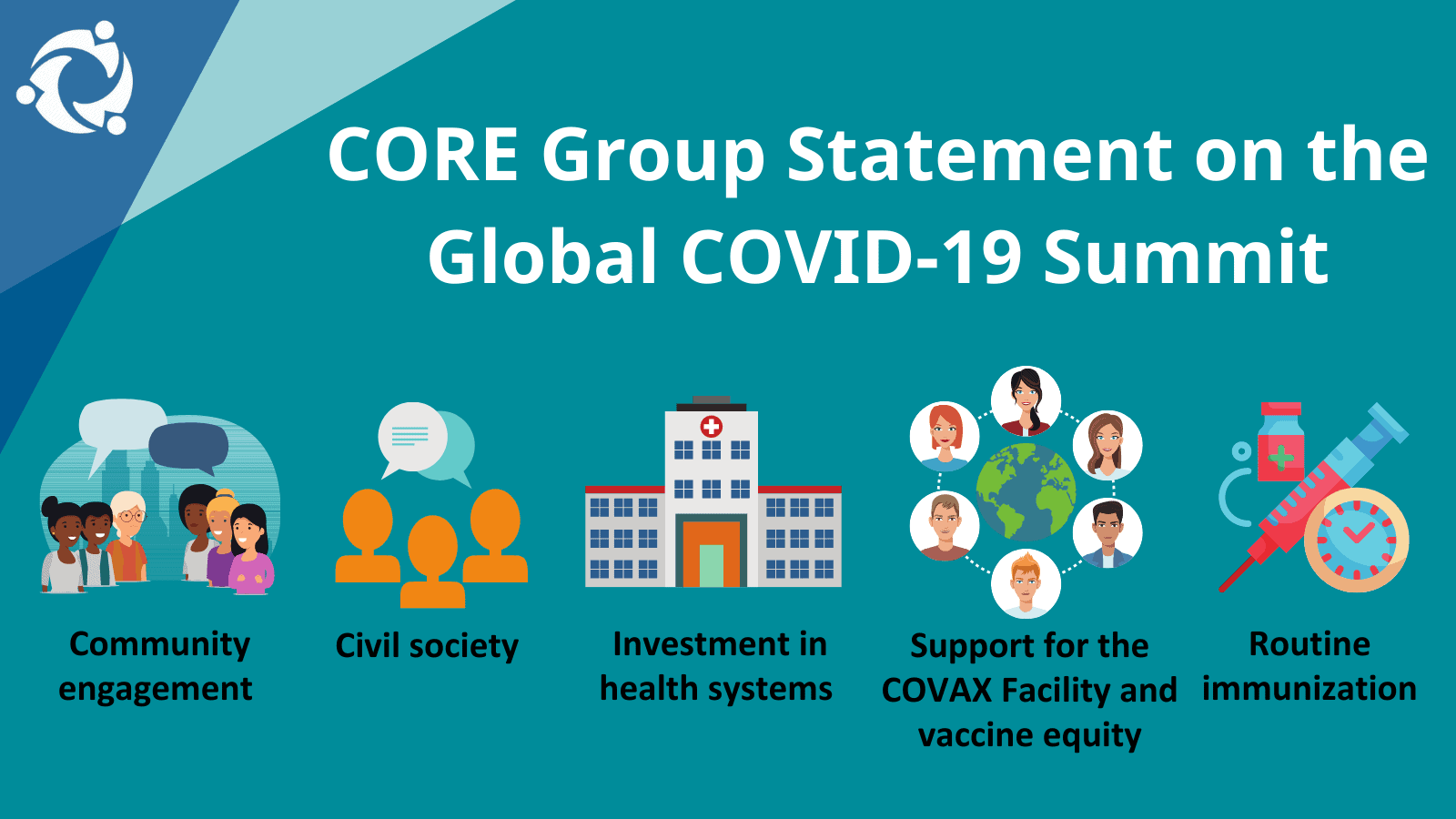 23 September 2021
Dear colleagues,
CORE Group was pleased to be invited to the Global COVID-19 Summit organized by President Biden and the White House yesterday. We applaud the summit's commitments toward vaccinating the world, saving lives now, building back better, and calling the world to account through collaboration and shared global target tracking. It is our hope that the U.S. government's bold commitments will propel collective momentum toward ending the pandemic, and that world leaders will collaborate and follow through on their commitments in order to make global progress against COVID-19—and future global health threats—a reality.
Here are CORE Group's top five takeaways from the summit:
1. Community engagement is key to the success of the response to COVID-19 and future global health threats. We heard from a Kenyan nurse and a South African community advocate living with long-haul COVID-19 symptoms. Community voices and frontline health workers are vital! Historically, community surveillance has been the key to successful outbreak control, response to man-made and natural disasters, and health service delivery from facility to community to household levels. Strong community engagement, including the elevation of women's voices and active participation, will facilitate trust and gain support for the interventions needed to respond to the COVID-19 pandemic and future threats.
2. Civil society must be involved in all of the proposed activities as key implementers of policies and programs. Commitments toward new mechanisms for concrete international collaboration to address the pandemic included a new EU-US partnership, support for the G20 Presidency's call for establishing a ministerial health and finance board, and a commitment to provide seed funding for the Global Health Security Financial Intermediary Fund (FIF) recommended by the G20 Presidency's High-Level Independent Panel. There must be civil society representatives involved at all levels of this planning and rollout.
3. Support for the COVAX Facility and vaccine equity is crucial to vaccinate the world. The White House also announced a substantial funding commitment toward ensuring the availability of COVID-19 vaccines across world regions by supporting the COVAX Facility—and enabling local manufacturers in India and Africa to ramp up COVID-19 vaccine production. Time is critical for the review of strategies to coordinate vaccine supply and delivery. High-income countries' (HICs') donations to low- and middle-income countries (LMICs) are crucial to ensuring vaccine equity: as of earlier this month, 75% of all administered COVID-19 vaccine doses were given in just 10 countries, yet Africa has only 3% COVID-19 vaccine coverage. Achieving vaccine equity is a moral, economic, and practical imperative.
4. Investment in health systems strengthening is fundamental. U.S. government agencies including the U.S. Agency for International Development (USAID), the Centers for Disease Control and Prevention (CDC), and the U.S. President's Emergency Plan for AIDS Relief (PEPFAR) have committed funding to strengthen health systems infrastructure, COVID-19 testing, and supplies of oxygen and personal protective equipment (PPE). This funding is a crucial start toward ensuring the actual delivery of COVID-19 testing and treatment, and in protecting the health of frontline health workers. Investment in the ultra-cold chain needed for the Pfizer-BioNTech COVID-19 vaccine and in health worker surge capacity is absolutely necessary to vaccinate 75% of all countries' populations.
5. Routine immunization and other essential services must continue to be prioritized and integrated with COVID-19 response activities. Bold commitments and action were set in place at the summit. Immunization and other health services must continue to be delivered to communities, and healthcare workers must be supported. This includes investment, integration of COVID-19 response activities, attention to avoiding the duplication of activities, and addressing gaps in healthcare workforce capacity due to the global nursing shortage.
CORE Group looks forward to the implementation of these initiatives and ongoing accountability to close the gap between HICs and LMICs in access to COVID-19 prevention and treatment measures, including vaccines. Our work with the Gavi CSO Steering Committee, IA2030, USAID-funded polio and MOMENTUM programs, and other community health programs will continue to support these ambitious commitments. Building on its COVID-19 work to date—which includes convening three Lives in the Balance summits with PMNCH and partners and a Global Health Practitioner Conference focused on equitable COVID-19 response, collaboration on the COVID-19 Digital Classroom initiative, and facilitating the C19 Virtual Marketplace to match suppliers with needs—CORE Group commits to advancing its networks' collaborative knowledge-sharing and advocacy to promote health systems strengthening and meet the needs of health workers to improve the well-being of communities worldwide.
Sincerely,
Lisa M. Hilmi
Executive Director, CORE Group