Today the CORE Group Partners Project (CGPP), along with so many others from around the world celebrate the International Day of the Girl Child, and we are highlighting two young women in our program, both communications officers, Jemima Tumalu and Daleen Shamaki.
According to the UN, about 1 in 5 girls do not complete lower-secondary school while about 4 in 10 girls do not complete upper-secondary school. In her role, Jemima said she has interacted with many girls in these categories. "They carry out the house chores and take care of the cattle as their brothers are at school because the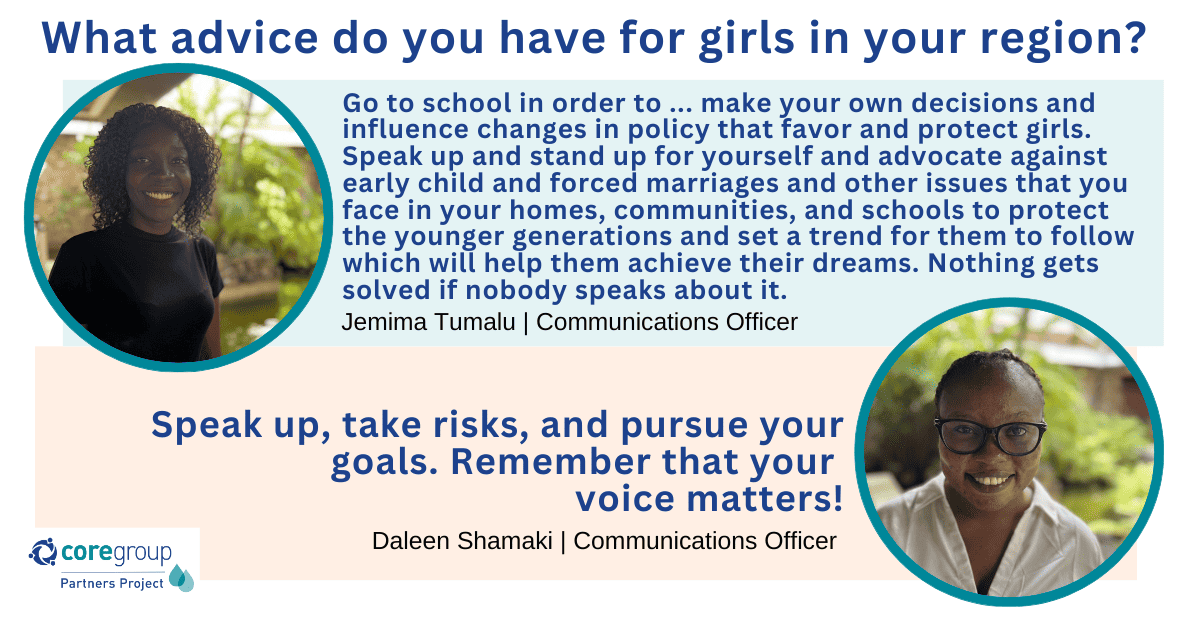 decision is not the girls to make," Jemima said. "Some of them are forced to marry as early as 12 so that the bride price paid can be used to provide for their other family needs." Those needs can include the marriage payment that the sons will need to pay for their wives. In some situations, girls have been disowned by their fathers for refusing to get married, so they live with relatives.
Almost 4 in 10 girls in sub-Saharan Africa were married before the age of 18. "In communities in the northern part of Nigeria, girls are married off at a young age, depriving them of personal development opportunities. Lack of self-education about reproductive health and hygiene has led to health issues limiting their ability to make informed decisions," Daleen said. Jemima agreed, "Girls face obstacles such as early child forced marriages which leads to high maternal deaths and other health issues especially in hard-to-reach areas." Refusal to marry is often met with violence. Jemima said that there was a recent case where a father gouged his daughter's eyes because she refused to enter into an arranged marriage. She knew of another case where a mother nailed her daughter's feet down because the mother claimed that the girl didn't stay at home. In some cases, mothers risk divorce or domestic violence if they decide without their husband's permission to give their children vaccinations.
CGPP works hard to mobilize communities and dispel the myths that surround vaccinations. In many areas, CGPP works with religious leaders, community leaders, and influencers such as barbers and teachers to dispel misconceptions and misinformation, to challenge social biases and norms, and to respond to individual fears. "Through the house-to-house visits that CGPP implements, mother-to-mother groups by the community volunteers, mothers get key messages and awareness on routine immunization and why it's important for their children to get vaccinated," Jemima said. Research has shown that "childhood vaccination can reduce gender disparities by preventing illness, thereby promoting higher educational attainment and labor participation for women."
"When girls are fully immunized with polio antigens, it contributes to the community's overall development and promotes equality in healthcare which protects world populations from disease outbreaks," Daleen said. "Despite the many barriers, girls in the communities we work with have displayed remarkable resilience in becoming vocal advocates for their rights, participating in local campaigns, and advocating for gender equality, education, and other social issues in their communities," Daleen said. Jemima agreed. "Girls go through a lot but are more resilient." Jemima said she's seen girls "fight for their rights and dreams" more than ever before. She said she has seen a change in culture where many husbands take their wives to access antenatal services, and many girls/women are giving birth to their children at hospitals rather than at home. "Girls have also started participating in discussions about their health and that of their children," Jemima said. She also said that she is happy to see more female volunteers in public health, and she has seen some advocate actively for other women and girls in their communities.
When asked what advice she would give to the girls in her region, Daleen said, "Speak up, take risks, and pursue your goals. Remember that your voice matters!"
Jemima said, "Go to school in order to be empowered and have access to jobs, power, and other resources. This will give you a chance to make your own decisions and influence changes in policy that favor and protect girls. Speak up and stand up for yourself and advocate against early child and forced marriages and other issues that you face in your homes, communities, and schools to protect the younger generations and set a trend for them to follow which will help them achieve their dreams. Nothing gets solved if nobody speaks about it."